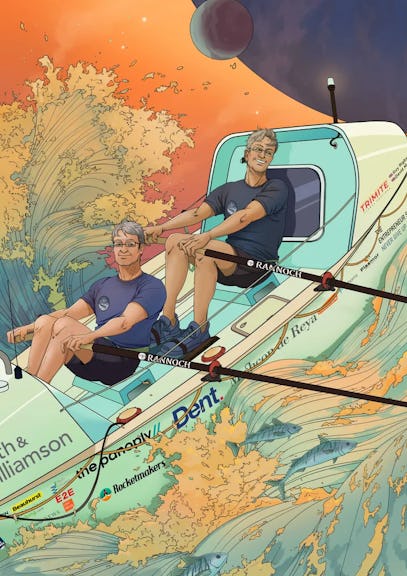 The Entrepreneur Ship: An illustrated adventure
A year or two ago we were visited at the Rocketmakers' office by Guy Rigby and Helen Bassett from Smith & Williamson. We had a broad and deep conversation about the perils of entrepreneurship, the potential for technology to enable change, and the possibility of collaboration. At the end of the meeting, Guy mentioned a memorable if rather extraordinary idea that he was developing - to row the Atlantic in a boat called The Entrepreneur Ship.
Fast forward a couple of years and we were delighted to discover that Guy had gone ahead with his plans and he and his good friend David were looking for sponsors for various boat parts to help them on the journey. In fact, the sponsorship wouldn't just help them get from the Canaries to Antigua but it would also contribute towards their chosen charity - UnLtd - a foundation for social entrepreneurs, whose aim is to develop a generation of social leaders with enduring impact, a cause very close to our hearts at Rocketmakers too. So after a spot of boat-part-related education we settled on the sponsorship of the Autohelm (a navigation tool that will help keep the boat on course) and that's where the real fun began.
In celebration of our involvement, and of the extraordinary challenge ahead, Rocktmakers commissioned Lydia Cockcroft, our go-to illustrator to create an artwork in celebration of the collaboration. Lydia took our brief and developed some sketches so we could work out how on earth to fit a rocket and a boat in a single frame whilst still making a coherent picture.

We settled on a couple of compositions that allowed us, with a little creative license, to bring the rocket and boat together, to recreate Guy and David in illustrative form, and to bring a touch of nature and sci-fi alive through the drawing too. With the structure agreed, Lydia moved on to draw out the details.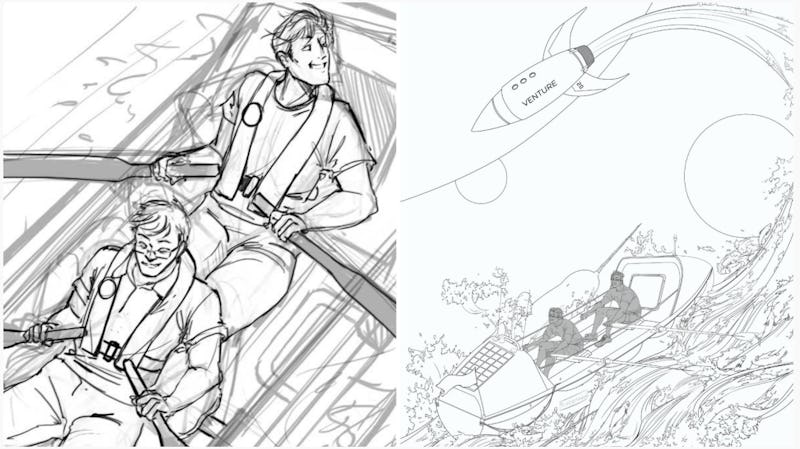 And then ultimately, Lydia brought the pictures fully to life with the addition of a little colour and some of the finer details…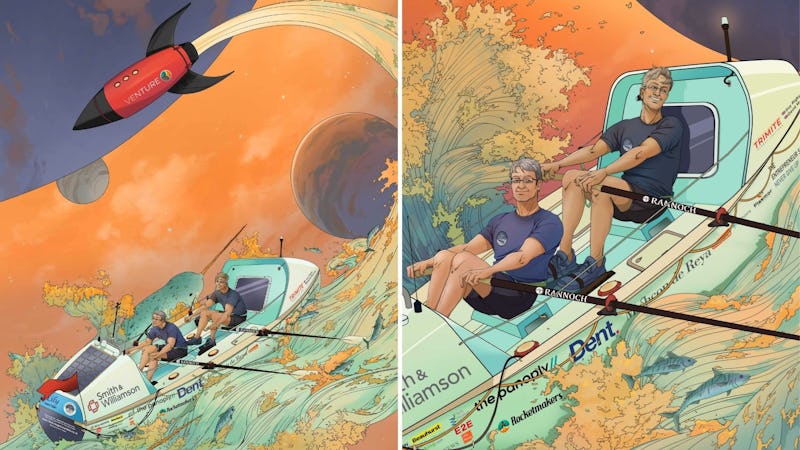 We are so excited for the launch of the boat and the start of David and Guy's adventure in December. If you would like to support Guy and David and their brilliant cause, UnLtd, you can find out more about their adventure here.
If you like Lydia's fabulous drawings and would like to commission something similar yourself, you can find her on Instagram and Art Station.
At Rocketmakers we leverage our experience to build innovative software for companies of all sizes. If you have a vision for a project and you need a technical partner to help you design, develop and deploy it, get in touch: [email protected]