Scaleup funding for innovation
According to the British Business Bank, only 14% of businesses in the South West look beyond their bank manager for funding to help them grow.
Every year the Scaleup Institute conducts a survey of the fast-growth companies across the country to understand more about the challenges and opportunities they are experiencing. A scaleup, for the uninitiated, is a company that has grown at 20% or more year on year for the last 3 years, and which had 10 or more employees at the start of that observation period. In the South West, 984 scaleup companies are identified by our friends at Beauhurst as growing at 20% or more. Some good examples include Aardman, Bath Ales, Crowdcube, and xMoor Pharma Concepts.
The Scaleup Institute's most recent survey, published in November 2022, highlights some interesting patterns when it comes to seeking external funding. 82% of scaleups use external funding but 5 in 10 don't think that they have the right types of funding in place to support their growth ambitions. 
To borrow from their analysis, the report tells us that "Debt products are the most common source of external finance with 52% of scaleups using this type of capital, (including 38% using overdrafts, credit cards or loans). 4 in 10 scaleups are also still using the finance support schemes set up in response to the Covid-19 pandemic while 27% have received cash injections from friends and family, or directors; 26% have received finance from government schemes."
Funding options
In 2020 The same report included a run-down of the funding options that scaling companies have utilised which offers a good summary of the choices available.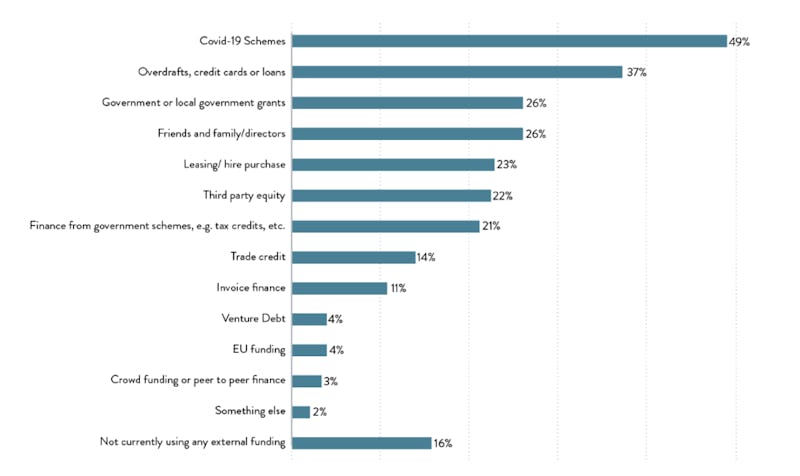 For those companies looking to fund an innovation like a new software product or service, some options are a better fit than others. 
Government Grants/Philanthropic grants
A grant is an amount of money that a government or other institution gives to an individual or to an organisation for a particular purpose. Grants are usually issued in relation to a specific theme or challenge so finding one that's a good fit for your product/service can be a challenge. They also have complex application processes and can be very competitive.
An organisation like Grantedltd.co.uk or Grantify.io can help you to identify relevant grants if you meet their innovation criteria. 
Commercial Bank Lending
A debt-based funding arrangement between a business and a financial institution. This is the most common option chosen by business leaders, but should be considered in the round. It is typically used to fund major capital expenditures and/or cover operational costs that the company may otherwise be unable to afford.
Mezzanine Financing
A business loan that offers repayment terms adapted to a company's cash flows. It is a hybrid of debt and equity financing—similar to debt financing in that you need cash flow to repay the loan, but with repayment terms that are more flexible than conventional debt financing.
Private Equity
Private equity (PE) refers to capital investment made into companies that are not publicly traded. Typically, PE investments are made into mature businesses in traditional industries in exchange for equity, or ownership stake. PE is a proven driver of sustainable business growth. This is achieved through operational expertise, sound management and, importantly, through the close working relationship between the private equity backer and the company management team.
Venture Capital 
Venture capital provides finance and operational expertise for entrepreneurs and start-up companies, typically, although not exclusively, in technology-based sectors such as ICT, life sciences or fintech. Venture Capital is one form of equity funding where investors will provide capital in return for a stake in the company. The main difference between private equity and venture capital comes down to the age of the company. Private equity will typically invest in a mature company, one which has been in operation for many years, if not decades.
Venture Debt
Venture debt or venture lending is a type of debt financing provided to venture-backed companies by specialized banks or non-bank lenders to fund working capital or capital expenses, such as purchasing equipment.
Other
Tax credits (R&D Reliefs, capital allowances, and SEIS/EIS) are also a valuable tool which help growing businesses to offset the costs of innovation projects. Find out more about these and the Scaleup Institute's insights here: https://www.scaleupinstitute.org.uk/scaleup-review-2022/access-to-finance/ 
Where can you find help?
There are a number of organisations that exist to support scaling companies to access suitable funding options - some of those include:
https://www.british-business-bank.co.uk/scale-up/ a directory that helps you to understand the options available to you.
https://www.pwc.co.uk/private-business-private-clients/raise/programme-supporting-high-growth-scale-ups-series-a.html for fast-growth, early-stage tech business looking to raise institutional funding between £3m - £10m, this is a programme designed to supercharge you on your fundraise.
https://www.joinventurepath.com/ program of support for UK tech scaleups looking to grow, raise capital and scale faster
https://www.scaleupinstitute.org.uk/programmes/innovate-uk-edge-scale-up-programme/ government funded programe that helps highly innovative, ambitious businesses realise their scaling ambitions. It is aimed at companies already on their scaling journey and able to disrupt existing markets and establish an international markets strategy.
https://www.bgf.co.uk/ BGF is the UK and Ireland's most active and dynamic investor of equity capital in growing companies, backing entrepreneurs and innovators.
https://scaleupcapital.com/ helps scale up B2B businesses through our funding, Scaler Programme and Platform. For those with revenues of £1-£10 million in technology, software, content or services?
The Scaleup Institute also maintains a directory of support across all challenge areas and endorses some providers: https://www.scaleupinstitute.org.uk/find-programmes/