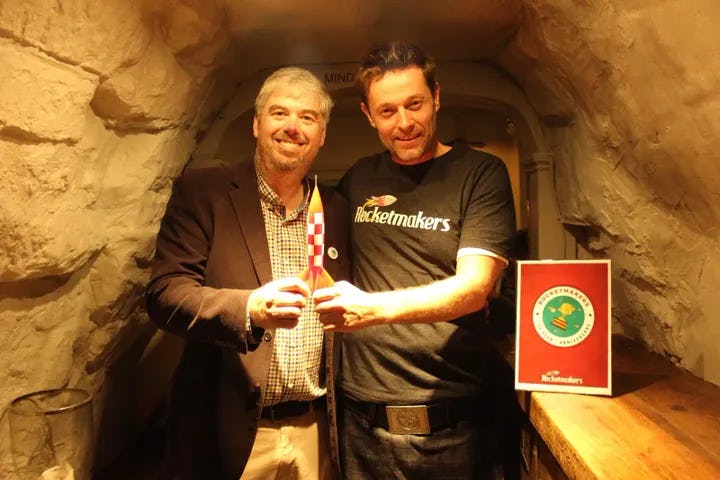 Rocketmakers celebrate 10th anniversary of company launch!
Rocketmakers 10th Anniversary Celebration from Rocketmakers on Vimeo.
Rocketmakers has turned ten years old! We celebrated our tenth anniversary with a tech-extravaganza for 150 guests last night.
To mark ten years of cutting edge software design we invited friends, family, customers and suppliers to a fun-filled evening at the trendy Circo Bar on George Street in Bath. Guests were invited to try out some cutting-edge toys and design kits dear to the Rocketmakers crew, including a space-themed virtual reality game.
The event also provided a chance for us to reflect on ten years of digital design excellence. Among the many accomplishments highlighted during the evening were helping TeamGB athletes improve performance and recover from injuries for the 2016 Rio Olympics, supporting partners Pure Planet to provide UK customers with access to clean, low-cost gas and electricity, enabling Team Bath Racing with augmented reality tools to help design their race cars, and nurturing revolutionary travel provider Travel Local from startup to highflying disruptive success story.
Rocketmakers began when our founders, two Somerset-based former Microsoft employees, Richard Godfrey and Paul Cross, joined forces with Glaswegian Keith Walker, who had worked as a developer for Pearsons, Scottish Enterprise, and Transport for London (TfL). It was while at TfL that Keith collaborated on a project with Richard and the two immediately struck up a great working relationship. When the project finished, they realised they wanted to work together again.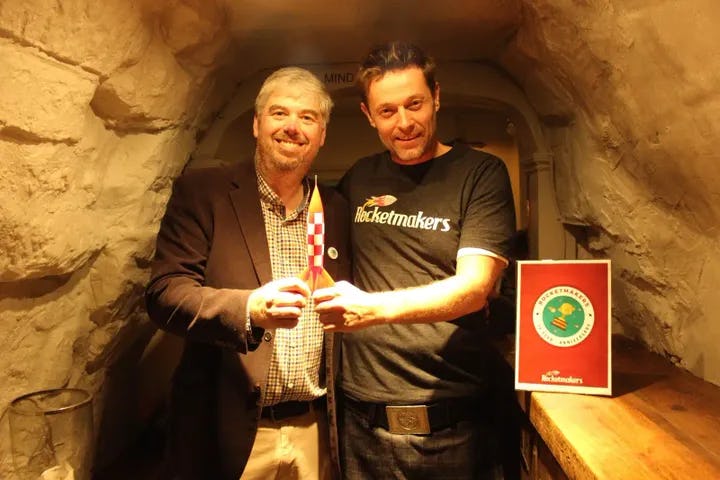 Keith and I made an immediate connection. We both have a passion for working with the very latest software ideas and experimenting with new technology. We decided to found a company that focuses on this shared desire. Instead of inventing one product and then spending years selling it, we wanted to constantly be exploring and creating new things.
Our passion for pioneering development, along with the considerable skills of our company founders, has enabled Rocketmakers to work with some of the biggest names in business and technology, including O2, the BBC, Nectar, Zendesk, Bank of America, and the English Institute of Sport.
But the team's eagerness to experiment has also driven an interest in working with disruptive newcomers, acting almost as an incubator for over a dozen startups making the transition from interesting idea to fully-fledged business.
"It may sound corny," Godfrey explains, "but we believe in making the world a better place through technology. If anyone comes to us with a great idea, we get excited - if we think we can turn that idea into a reality we will help them take the concept from the drawing board to an established business."
As a leading member of the tech sector in the southwest, Rocketmakers has also been extremely active in promoting programming and design skills in the region, particularly in Bath and Bristol. Godfrey acts as the lead judge in the annual Apps Crunch competition at the University of Bath. Students from across all university departments compete to come up with the best idea, app design, and business model. Competition winners have travelled to Silicon Valley where they have been introduced to industry leaders.
Explaining Rocketmakers' dedication to the local community, Godfrey explains, "Bath is a fantastic city and has a vibrant tech scene. We want to do our part to ensure that it continues and grows. And, if I'm honest, we are constantly on the lookout for talented developers so it's also in our interest to help cultivate local coding talent."
We currently have fourteen full-time staff and plans to extend our current Bartlett Street headquarters to roughly double its current size, we are excited to begin our second decade of exploring the limits of technology.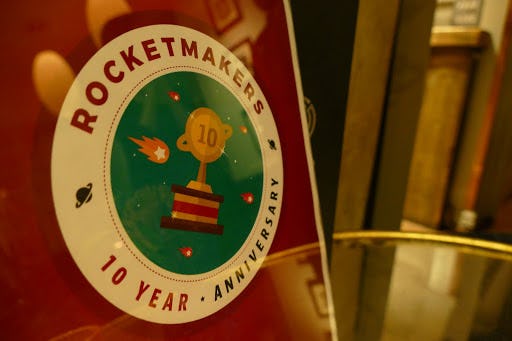 Check out what went on at our tech extravaganza in our video.
At Rocketmakers we leverage our experience to build innovative software for companies of all sizes. If you have a vision for a project and you need a technical partner to help you design, develop and deploy it, get in touch: [email protected]