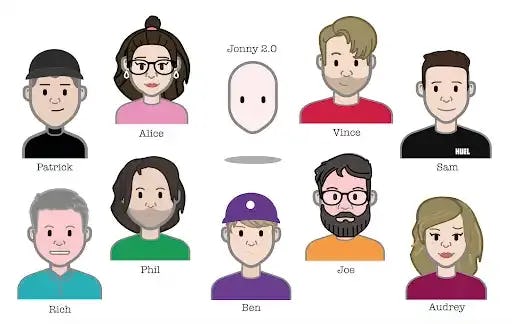 Making standup standout
Since Rocketmakers began way back in the 2000s, client standups have been a core part of the way we work. We get all the responsible people together on a regular basis to discuss project progress, blockers and next steps – it's not rocket science. These are often in-person huddles in one of the rockets in the office, with clients joining remotely too. These client standups have continued, seamlessly into this new coronavirus-induced virtual world. So you'd think that a transition to include a newly implemented whole team standup would be a smooth one with little to report. You couldn't be more wrong.
Our inaugural week of team standups was fairly uneventful, everyone turned up on time, Richard did a cracking job as MC and we whistled through 27 updates in 30 minutes. We kept ourselves entertained with the rather creative captions, thanks Google Hangouts – that robot needs more training. (For the record, the transcript wasn't entirely reliable, particularly when it came to project names and capturing keywords, or perhaps it was our pronunciation that was at fault!) We enjoyed some fancy dress surprises from time to time. And as the days passed, Richard even got a bit creative with some random name order to keep us on our toes.
At the start of week 2, Richard nominated one of the team to take the reins and host the standup. Still, nothing terribly innovative to report here.
We're now well into week 3 and you might be wondering how on earth this simple, common, whole organisation standup has become newsworthy. Well, let me tell you, Team Rocketmakers are a pretty innovative bunch…
As different people have taken the Pilot's seat, the levels of creativity have sky-rocketed.The competition is hotter than the latest tech released by our friends at Ultraleap.
We started with some pretty straightforward approaches. There was Joe who kept it simple, if slightly military, with surnames in alphabetical order. That took me right back to my teaching days in the science classroom. Not long after, Jonny took it a step further with some detailed preparation. He had counted the letters in everyone's name and took us on a tour from the longest to the shortest. For the record, Patrick came out on top.
Keith kept it simple with a repetitive if rather bizarrely robotic "you look nice today" statement as a special gift for everyone.
Nathan brought his charisma, charm and the odd moment of awkward silence to the party and brought the standup home in a 19 minute record time.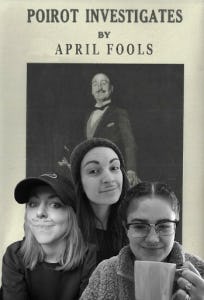 And then there was April 1 (yep, that's April Fools day to the uninitiated), when some of the girls donned tiny moustaches in secret and no one SAID ANYTHING about it.
After that, things got even more crazy. James broadened my board games knowledge about 10 fold by introducing me to a dice that has more than 6 sides. Let me say that again, more than 6 sides. What wizardry is this?! He used a 20 sided dice and an 8 sided dice and a spreadsheet to keep us guessing as to the random order of status updates for the day.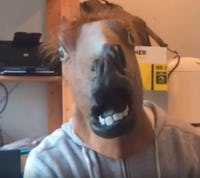 On Friday, dress-up Friday as some would call it, Phil took the absolute biscuit (or carrot in this case). He conducted the entire standup in the guise of a Rocketmakers branded horse. He ate carrots, chomped on an apple and had a horse-themed joke for every occasion. Hilarity levels were at a maximum, time-keeping however left a little to be desired.
Just this week, on Monday, Ben shared a little fruit machine that he had whipped up over the weekend. A proper lever controlled spinning wonder that not only selected a name at random, it also asked a 'work appropriate question' courtesy of the Elfster blog (Elfster is our secret santa tool of choice). I shan't divulge Phil's answer to whether he prefers dark or milk chocolate or ponder on the intricacies of how much Jonny likes Cranberries, or whether Audrey changes the loo roll when she uses the last piece. But it seems to me that Elfster thinks that questions are 'work appropriate' even when they are really not.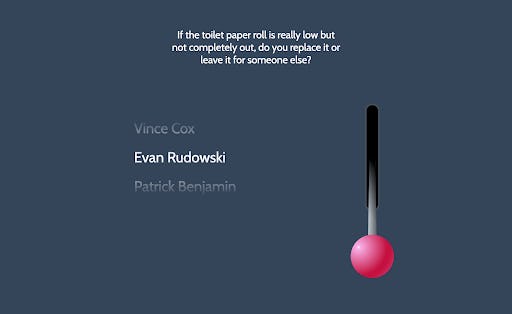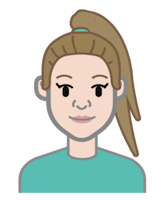 And today, the fabulously creative straw that broke my blog writing back was Alice's phenomenal avatars. She brought a guessing game of epic visual proportions. At random, these cheeky little faces appeared on screen and we guessed who they were. Alice lined herself up for a promotion with a particularly flattering interpretation of Richard, and if we're really honest her version of Keith had a lot less grey hair than the reality.
And the creativity just keeps flowing – from the (somewhat eclectic) playlist that Audrey created with a song that included every person's name to the wheel of fortune style spinner that Adam made over the bank holiday with the classic 'countdown music' embedded.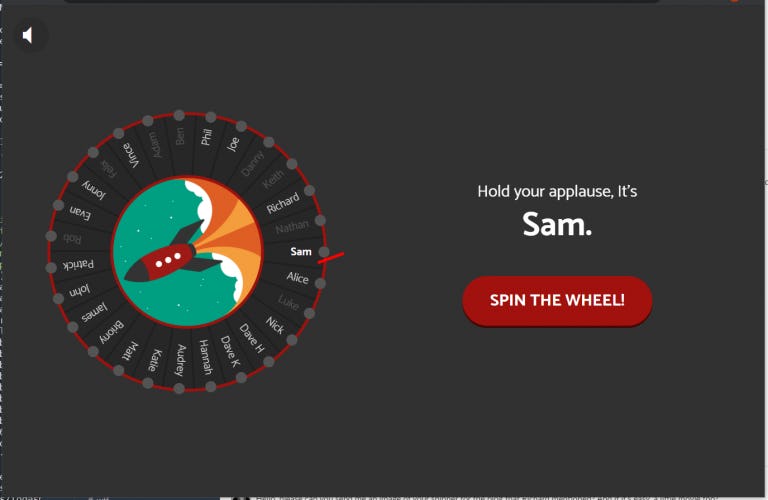 With a mere 100 weeks of lockdown remaining (let's be honest, we have no idea how long it will be), we graduated to include some 'hold music' to fill the few minutes of awkward silence when the hangout is filling up with anticipation and muted video callers. I can't help but wonder whether our creativity will last as long as lockdown does.
And as the daily standup format is iterated every day, I find myself wondering how many other people across companies around the world are finding laughter in the most fundamental elements of business. What creativity and levity are you bringing to work? For me, it is a real tonic.
Not only have I chuckled more times in lockdown than an average day in the office, I have also learnt about dice with too many sides, discovered a lot about my colleagues, uncovered a few bits of technical language and gleaned useful snippets about projects across the business.
So now I'm wondering when I'll be picked to host my first game show, I mean standup, and what Team Rocketmakers will make of my interpretation of creativity!
This blog post was first published on tech spark – click here to visit.
At Rocketmakers we leverage our experience to build innovative software for companies of all sizes. If you have a vision for a project and you need a technical partner to help you design, develop and deploy it, get in touch: [email protected]