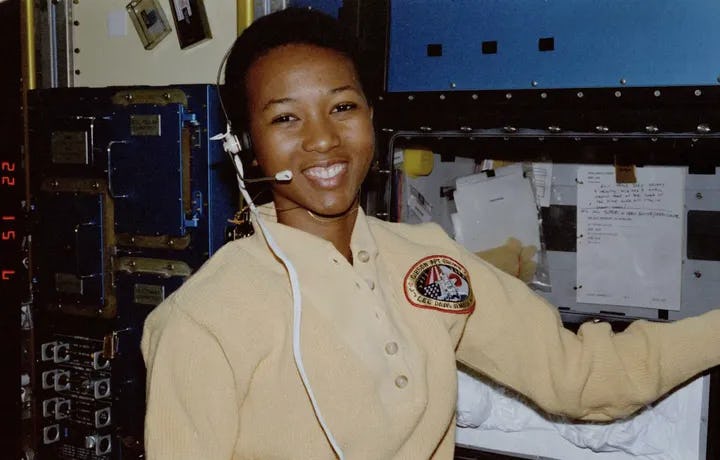 Introducing Mae Jemison - NASA success story
If you couldn't already tell from our brand and ambition, Rocketmaker's founders Richard and Keith were hugely inspired by NASA's values when setting up the company. In fact, the origin of the visual identity was to blend the professionalism, collaboration and ambition of the NASA space program with a tongue and cheek retro sci-fi style from the 1950's.
This theme is incorporated into most aspects of Rocketmaker's identity from our logo, to our merchandise and interactive app. For our new office, we even had two large work "pods," decorated to appear like rocket stages named "Venture III". And each Rocketmaker's employee is illustrated as a fictional crew member as part of their company on-boarding.
Rocketmakers is so inspired by the work of NASA yet many people know very little about the incredible women who played a pivotal part in its achievements. This International Women's Day, we thought we would introduce you to four women who played a crucial role in historic space expeditions.
Over the course of the week, each day we will be shining a light on different female figures who each played their unique part in NASA's work.
Yesterday, we introduced Nancy Roman which you can read here if you missed it.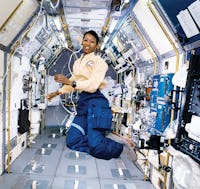 Second, let's meet Mae Jemison, the first African-American woman to enter space. Jemison was working as a general practitioner in Los Angeles, California when NASA selected her and 14 others for astronaut training. Dr. Jemison completed her training as a mission specialist with NASA in 1988 and in September of 1992 she became a mission specialist aboard the Shuttle Endeavour.
Jemison was born on October 17, 1956, in Alabama. The Jemison family moved to Chicago, Illinois, when Jemison was three years old to take advantage of better educational opportunities, and it is that city that she calls her hometown.
Throughout her early school years, Jemison's parents were supportive and encouraging of her talents and abilities, and she spent a significant amount of time in her school library reading about all aspects of science, especially astronomy.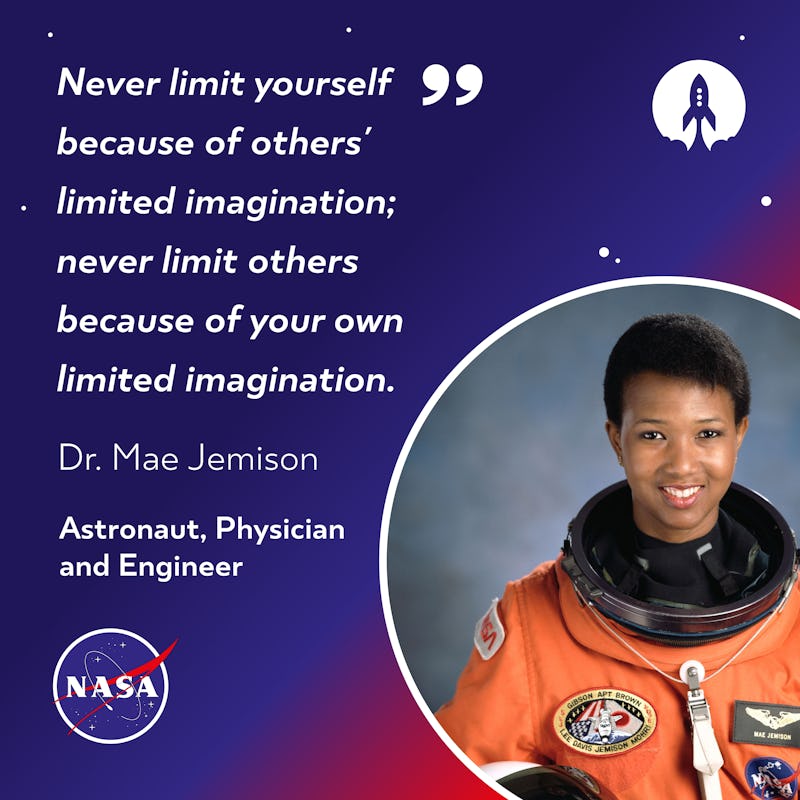 Jemison pursued a career in medicine after graduating from Stanford University with a degree in chemical engineering in 1977. However, in 1985, Jemison made a career change and decided to follow a dream she had nurtured for a long time by applying for NASA's astronaut training programme. She was one of the 15 candidates chosen from a field of about 2,000.
During her eight day mission in space, Jemison was responsible for conducting experiments on weightlessness and motion sickness on the crew and herself. In all, she spent nearly eight days in space before returning to Earth on September 20, 1992. Following her historic flight, Jemison noted that society should recognise how much both women and members of other minority groups can contribute if given the opportunity.
Jemison has become a role model for not just African American young women but all young people wanting to pursue a career in science. She believes firmly, "Never limit yourself because of others' limited imagination; never limit others because of your own limited imagination."
To celebrate International Women's Day, we are putting a spotlight on four of NASA's most successful women. Make sure to come back tomorrow to view our next instalment in the series.
First image credit: Pinterest Second image credit: space.com
At Rocketmakers we leverage our experience to build innovative software for companies of all sizes. If you have a vision for a project and you need a technical partner to help you design, develop and deploy it, get in touch: [email protected]