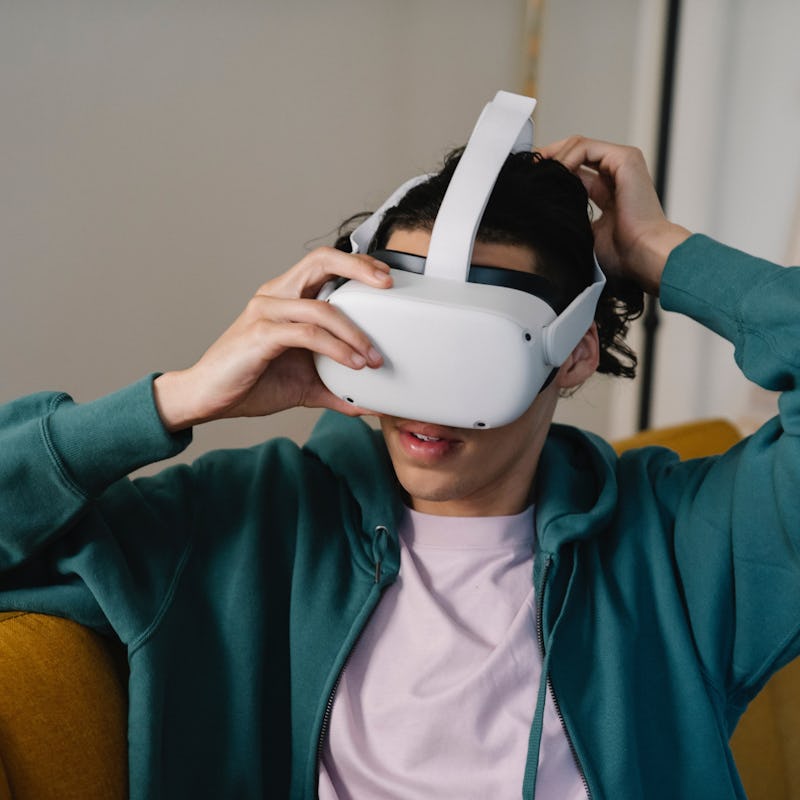 Five Benefits Of Immersive Technology For Business
Discussion around immersive technology has, in recent times, focused predominantly on the metaverse and its impact on the consumer. It's hard not to think of the technology without conjuring images of digital 3D planets, avatars, gaming, and a strange, dystopian future disconnected from the physical world.
But when we push aside all the extremities and hyped headlines, the metaverse is really just the convergence of the physical world and the internet powered by extended reality (XR) — a mixture of virtual reality (VR), augmented reality (AR), and mixed reality (MR).
XR, which is an example of Immersive Technology, blurs the lines between the digital world and physical reality, creating a new and exciting experience for the user. The development of the technology is becoming more advanced by the day, with more weird, wonderful and worldly applications being introduced across industries.
In today's hyper-competitive market, businesses big and small are on the hunt for new ways to streamline their processes and create a more productive workplace. And the application of immersive technology in business is one way firms are looking to gain a competitive advantage. The question on the lips of business founders is switching from "what is immersive technology?" to "How can our business benefit from immersive technology".
So, without further ado, let's take a look at some of the creative ways businesses are benefiting from immersive technology.
#1 Customer Engagement and brand marketing
Many of today's forward-thinking businesses are using immersive technology to totally transform the marketing experience for their customers. XR in marketing is enabling brands to stand out from the crowd and truly capture the attention of the modern consumer.
Yes, traditional trade shows, marketing videos and creative campaigns are great. But how about totally immersing your customer in a brand experience? That's sure to leave a lasting impression. AR, VR and MR are unlocking so many creative opportunities for marketers and software developers that it's hard not to get excited about the future of advertising.
A great example of a brand that has wasted no time in implementing immersive tech into its brand marketing strategy is Ikea. The Swedish home furnishings retailer has an IKEA Place app, which uses AR to allow users to virtually place 3D models of its products in their own homes. The innovative software uses true-to-scale models, enabling potential customers to better visualise how a desired piece of furniture will look in their space. 
#2 Improved employee training 
Work-related training is a key area for businesses when looking at the application of immersive technology. For example, VR training programmes are offering many tangible benefits to businesses including: 
Increased trainee engagement by providing an interactive, fully-immersive experience as opposed to more traditional training methods such as webinars, andworkshops.
The opportunity to carry out practical training activities in a virtual yet realistic space. By recreating environments, employees can practice new skills without the worry of risk.
 Improving knowledge retention and speeding up the learning process by enabling employees to "learn by doing" compared to just taking in information about a subject.
Businesses can save on training costs in the long run due to employees not having to travel to off-site training locations.
Mental health staff at King's College Hospital have partnered with Bristol-based immersive education company, Virti and researchers at London-based Maudsley Learning and Maudsley NHS Foundation Trust to pilot VR technology for diversity and inclusion training. 
The staff involved in the pilot will be able to utilise VR headsets or mobile devices to practice skills such as inclusion, empathy and interpersonal awareness. 
James Pathan, head of operations, Maudsley Learning said: "A major advantage is the scalability of the technology, and the potential to reach more of the workforce with lower cost, experiential training.
"Having this training placed on wards allows staff to access learning at their own convenience."
#3 Accelerating product design and development 
Across industries and businesses far and wide, teams are looking for ways to design and develop products in a faster and more cost-efficient way. The great news is that immersive technologies are beginning to really make waves in the world of design and development, allowing businesses to get products to market in much less time, all while saving on costs. 
Innovative VR software and platforms such as ShapesXR provide research and development  (R&D) teams with a collaborative virtual space to test out concepts and develop designs in a risk-free environment without the need to invest time and money in physical prototypes. Development teams can pretty much step inside their 3D designs and evaluate them from any angle they wish. 
As well as the benefits of faster product-to-market time and cost savings, R&D professionals are given the freedom to think differently, with opportunities to fail fast and learn quickly. This ultimately will lead to the development of more creative and innovative ideas and products.
#4 Increase efficiency
Immersive technology is also being utilised across businesses to help improve productivity, efficiency, and make the workplace a safer place to be. Examples include:
Using VR for remote work meetings and collaboration
To increase engagement in employee training and development
Increasing skill-sets and task accuracy through virtual practice
To enhance decision making via 3D visualisation and access to real-time information.
The efficiency benefits of implementing immersive technology are further showcased by research. In one study, businesses using AR reported a 46 percent decrease in work completion time and average productivity gains of 32 percent. For businesses that strive to provide safe and effective work environments for their employees, it's easy to see why immersive tech implementation is growing more popular.
E-commerce giant, Amazon, is just one example of a business enjoying the improved productivity and efficiency benefits of harnessing immersive technology. Within its warehouse factories, AR and IoT is used to help employees with a range of tasks including stock control management and warehouse navigation. 
#5 Gain a competitive edge 
Last, but certainly not least, on our list of the business benefits of immersive tech is the opportunity for businesses to differentiate themselves from today's crowded market. 
With AR, VR and MR being relatively new technologies on the block, only the most innovative brands are already implementing winning strategies. That means there's a brilliant opportunity for businesses across industries to jump onboard the immersive technology train early on to stand out from the competition. Offering your customers and employees a cutting-edge experience via bespoke software will be sure to put you top of the list when it comes to turning leads into customers, attracting talent, and increasing employee retention. 
Could your business benefit from immersive technology?
Immersive technology can no longer be thought of as a far away fantasy for businesses. With the market expected to reach $97.76 billion in 2028 for AR alone, it's clear that immersive technology is set to be a key focus for organisations across a whole range of industries, from manufacturing to e-commerce. And who can blame them with rich benefits as outlined above?
The first step to figuring out if your business can benefit from immersive technology is to have a clear vision of how it could work for you. Working with experienced software developers can help bring this vision to life and unlock a whole world of possibilities.
Here at Rocketmakers, our talented team of software developers and designers are at the forefront of XR and 3D visual design. We recently partnered up with industry leaders to build Beam. This is a system that enhances immersive projects by making the process of creating and managing content in a 3D environment far easier. Unlike the ease of updating websites through content management systems, making changes to a 3D environment requires a whole team of software developers - which can be slow and expensive. We wanted to change this. With Beam, creators are empowered to instantly make changes to their 3D world via a simple web interface. 
Rocketmakers are Immersive Technology Specialists. But don't just take our word for it —  this year we were named winners of the Best Use of VR/AR award at the 2022 edition of the SPARKies! 
Ready to bring your vision to life with a bespoke software strategy? Reach out today!