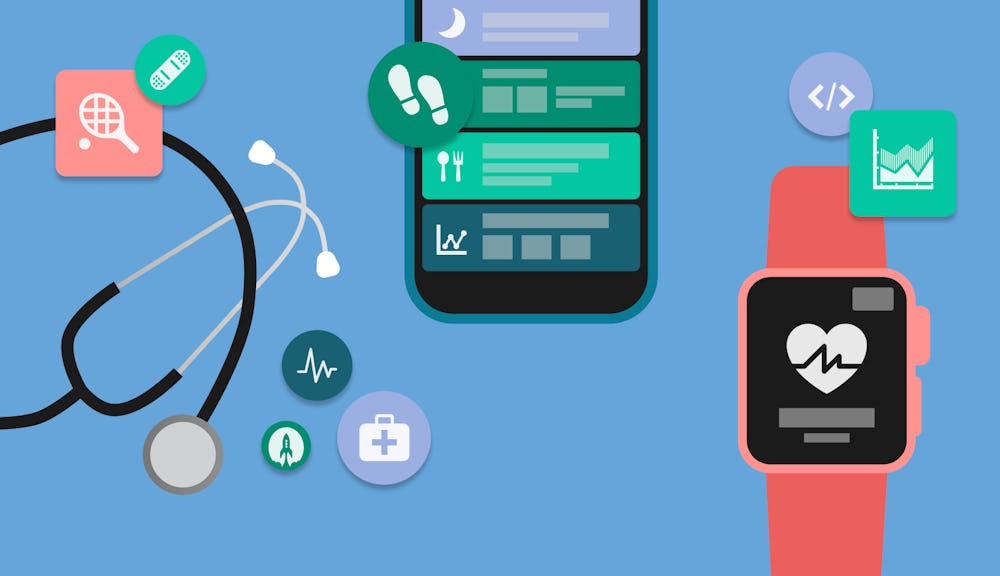 Innovation in Healthcare
The world of healthcare is continuously evolving — from the integration of medical robotics to the widespread adoption of artificial intelligence. It's fair to say that technology has become a key enabler for improvement in the healthcare system. And with the NHS under significant pressure due to the after effects of the pandemic and mounting staff departures, the importance of investing in solutions that will improve procedures and ensure patients receive high-quality care is more important than ever before.
This increasing application of technology within healthcare has led to the term #HealthTech. According to Statista, this growing market is projected to reach nearly US$660 billion by 2025, with new progressions being made every day.
In this blog, we dive into some of the most exciting innovations happening in the healthcare industry today. 
AI in Healthcare
Artificial Intelligence (AI) is rapidly making its way into all industries, and healthcare is no exception. In fact, In a December 2021 survey, health insurer, Optum, revealed that 85 percent of healthcare executives have an AI strategy, and almost half of executives surveyed now use the technology.
The applications of AI in healthcare settings are proving to be truly wonderful, helping to progress the industry in inspiring ways. Here are just a few examples of AI innovations in healthcare.
NLP and Conversational AI: In the coming years, we should expect to see the advanced use of virtual assistants using Natural Language Processing (NLP) and Conversational AI. This application will help to ease pressures on healthcare settings by helping to separate those patients who need urgent care versus those to which a physician can tend. In addition, conversational AI can give patients advice such as what they are required to do before an exam, directions to a hospital ward, and more. 
Using AI to make sense of information: With the help of sophisticated AI algorithms, healthcare professionals can make more sense of complex medical information. For instance, AI can help to make earlier and more accurate analysis through X-Ray images, MRI and CT scans, along with other information. This will help to increase efficiency and get patients better diagnoses and care.
Immersive Technology and Healthcare 
The use of immersive technologies such as Virtual Reality (VR), Augmented Reality (AR), Mixed Reality (MR) and Extended Reality (XR) have paved the way for many opportunities to improve the healthcare industry. Let's take a look at a couple of the latest innovations in this space.
VR and pain management: Virtual reality is increasingly being explored as a tool to help pain management and enhance the patient experience. An example of this is that of Northumbria Healthcare NHS Foundation Trust, where patients undergoing awake limb surgery are being given VR headsets to help distract and relax patients in combination with a nerve block. According to the Trust, this has helped decrease the number of patients needing to have heavy sedation of general anaesthetic.
Healthcare education and training tools: In recent years, one of the most commonly heard applications of immersive technologies in healthcare is its use in training and education. And it's fair to say this is proving successful with an increasing number of settings adopting AR and VR to provide education to student healthcare professionals. A recent example of this comes from Cambridge University Hospitals (CUH) using immersive 3D learning in the form of hologram patients to help students assess, diagnose, and treat conditions through a simulated environment
Our Extended Reality (XR) CMS platform Beam makes creating and managing the above immersive environments easy. Find out more.
Connected Technology and Healthcare 
Remote patient care and monitoring using tools such as sensors, wearables, and apps to collect and record data has become more mainstream as the general population has become more comfortable with technology. Since the pandemic, we have already seen innovations in healthcare completely skyrocket. This has truly helped to speed along the adoption rates of technology within the healthcare sector. Let's look at a few examples of how connected technology is revolutionising patient care.
Remote monitoring and virtual GP visits: The Covid-19 pandemic led to the increased percentage of virtual visits and telephone appointments in the UK. While physical appointments will of course still be needed in a variety of cases, the use of video technology to provide remote help and advice to less urgent cases will help lessen the pressure on the NHS while enhancing recovery rates, diagnosis and response rates.
Improving patient engagement: In a variety of situations, patients are often asked to keep track of their diet, lifestyle and medications. But often they fail to do so which can lead to poor patient outcomes, increased costs and further pressure on the health system. Through the use of apps and wearables, more health organisations are empowering patients to take more ownership of their care by making it easier to track, record and share their health data. Not only does this help healthcare professionals provide better care, but it also allows patients to become more savvy and proactive regarding self-care. It's a win-win!
The use of mobile apps amongst the general population is at an all-time high and to continue meeting the needs of patients, many healthcare organisations are working with expert software agencies to develop patient apps.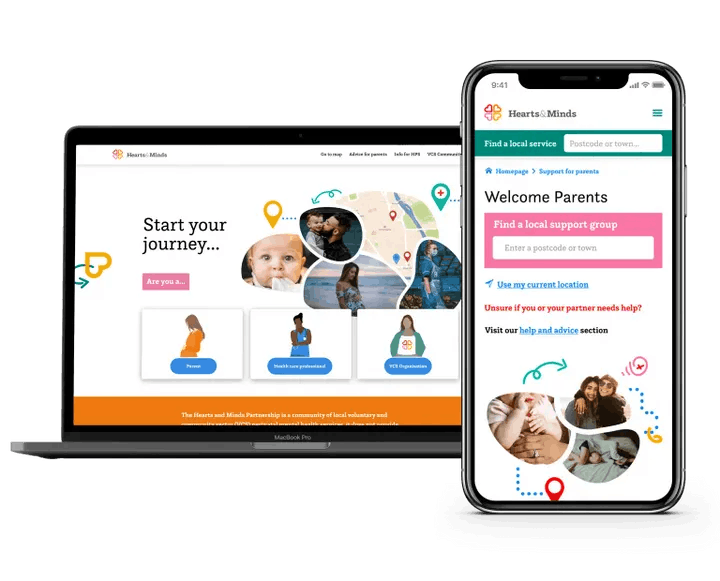 Developing a Bespoke Healthcare App
Here at Rocketmakers, we recently launched a bespoke healthcare app for the Hearts and Minds Partnership, which provides perinatal mental health support.  Our talented team of software experts designed and developed an easy-to-use platform for parents and healthcare professionals to easily find nearby, trusted support. The impact? The Hearts and Minds platform is now helping over 10K users and has received positive feedback from both parents and healthcare professionals. Read more about this project.
It's an exciting time for innovation in healthcare. The above examples are only a fraction of the key trends taking the industry by storm. Each and every day there seems to be a new and inspiring story on how technology is improving patient care, reducing costs, and lowering the burden on our NHS. While healthcare is in the early stages of tech adoption, as it becomes more widespread, tools such as AI and immersive tech will help revolutionise the industry and improve the lives of everyone involved.

Rocketmakers: Experts in HealthTech
Our ultimate goal as an award-winning software agency is to have a positive impact on the lives of 50 million people through the software that we build, so it's perhaps no surprise that many of the projects we've worked on have focused on improving physical and mental health through leading software solutions. Take a look at some of our leading work in HealthTech and, if you're interested in talking to us, please do get in touch!