COCO+ a new startup founded to help business travellers offset their carbon footprint at no extra cost
Rocketmakers recently began working with an exciting new partner: COCO+ - a startup founded to help business travellers offset their carbon footprint - at no extra cost!
The Rocketmakers team was initially attracted to the project partly because of our ongoing commitment to using technology to make the world a better place. We loved the concept, and the enthusiasm of the COCO+ team is infectious.
The co-founders of COCO+ previously worked in the hospitality industry, and wanted to offer customers a simple and painless way to offset business travel carbon emissions. After exploring different models, they arrived at a unique concept: a one-stop business travel app which will automatically arrange carbon offsetting for all travel at no extra cost to the customer.
This is a bold vision - and one which fits well with the work Rocketmakers has done for several other clients. This includes the app for green electricity and carbon offset gas provider Pure Planet, and the user interface for Sero, a system which is being used to drastically reduce the carbon footprint and energy costs in social housing developments in Wales.
The COCO+ app will eventually provide access to a full suite of travel services, but in order to build and test the minimum viable product (MVP), COCO+ wanted to start with just one: carbon offset fuel for cars.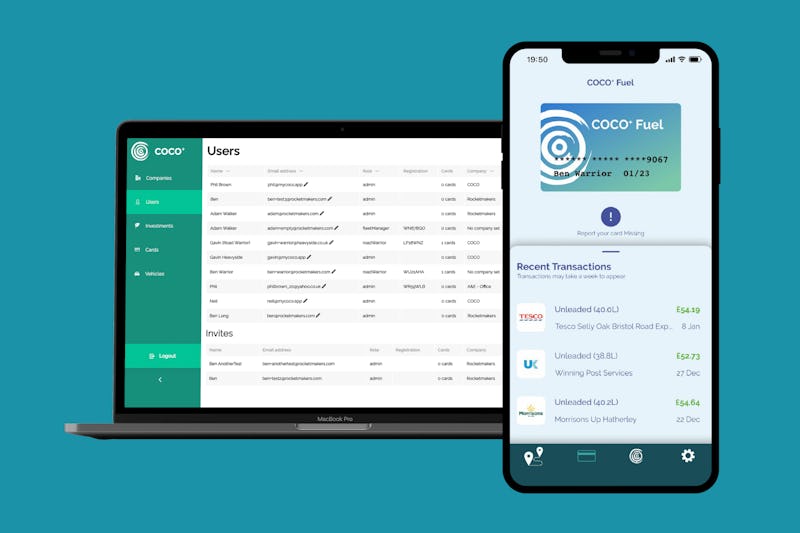 The MVP, which first appeared on the App Store and Google Play in May, brings a range of data feeds together to make the service as simple and useful as possible. For business car & van drivers, it helps them locate fuel stations which accept the COCO+ fuel card, and keeps a record of transactions.The app also calculates the carbon footprint of each transaction.
Meanwhile, completely in the background, COCO+ automatically uses a portion of the revenue from the fuel card purchases to offset the carbon footprint of every car in the fleet. Companies can also track offsetting for their entire fleet directly on the app.
The MVP is currently in use by early adopters, there are already plans to add facilities to book flights, trains, hotels, and car rental to the app. Once the full range of services are in place, COCO+ will become an extremely convenient way for companies to offset carbon emissions automatically, and for free!
"It's been a great experience working with Rocketmakers so far," explained COCO+ Chief Operations Officer Phil Brown.
We had a clear vision for the MVP, and Rocketmakers helped us realise this quickly and within budget. Now that we're working on some very significant expansions of the COCO+ platform, it's great to have such an experienced development team backing us up.
At Rocketmakers we leverage our experience to build innovative software for companies of all sizes. If you have a vision for a project and you need a technical partner to help you design, develop and deploy it, get in touch: [email protected]