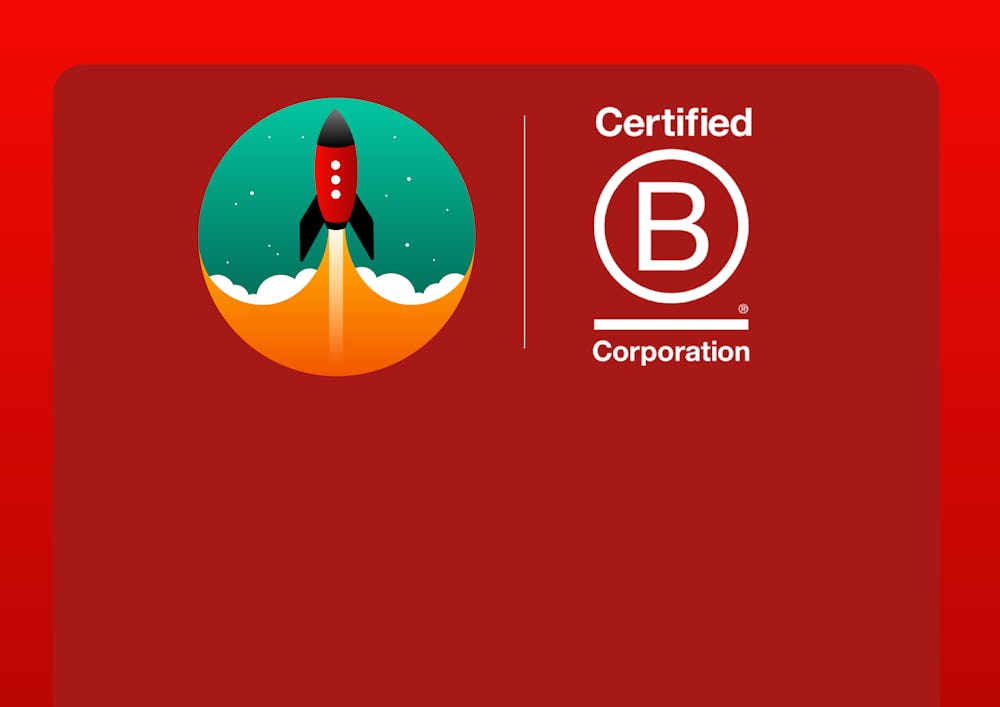 We're now a B Corp!
We were absolutely delighted to be certified as a B Corporation this month.
B Corporations are recognised for balancing profit with people and the planet, so our goal to have a positive impact on the lives of 50 million people through the software we build made applying a natural next step in our impact strategy.
In this blog post, we catch up with Sian, our Chief People Officer, who took the lead in managing the process.
Why did Rocketmakers apply to be a B Corporation?
The decision to apply was made before I joined the business, but for me the B Corporation (B Corp) certification totally fits with Rocketmakers' ethos. 
The three pillars of B Corp are People, Planet and Profit and Rocketmakers are renowned for our culture of supporting the wellbeing of our crew, alongside our involvement in a large number of impactful projects that focus on people and the planet. As a business we are keen to help others with the profits that we make, providing pro-bono work, as defined in our recent Collaboratorium launch, and lastly we would hope that, being a certified B Corp will help us attract like-minded clients to work with. 
What were the stages of becoming certified?
At the point where we expressed our interest in the certification through B Lab UK we were given free access to the B Impact Assessment tool, which included a large number of questions within five categories: Governance, Workers, Environment, Community, and Customers, alongside a disclosure questionnaire.
We set up working groups to look at each category and to consider each question individually and we gradually pulled together our responses, along with evidence that could corroborate our answers.
In order to achieve certification you need to obtain at least 80 points. Thankfully we managed to achieve more than 90 points, giving us a bit of wiggle room, and once we completed 100% of the questions we submitted the assessment for verification.
We answered various questions through the tool with an initial B Lab analyst and then had a video call with a secondary analyst to go through some questions they had chosen and to discuss the evidence they required. We actually ended up with more points during this analysis, which was a bonus!
The whole process from start to finish took us approximately 2 years. Initially we spent a fair amount of time pulling together information needed, ensuring our internal processes reflected our answers fully, and we submitted in January 2022. We finally got the exciting news of our certification in January 2023, which was delayed due to a long waiting list for verification.
How did you find the process? 
B Lab tells you that the path to certification is rigorous, comprehensive, and rewarding and that sums it up well. 
It's not the easiest process to manage, but then I don't believe it should be. The certification covers areas that are fundamental for our planet's future and for doing good for people and our community, and as such I believe it should push companies to really focus and think outside of the box about their practices.
The questions within the assessment tool really help you to hone in on the areas that you need to consider in order to achieve certification, and they enabled us to make many improvements to our internal processes, with more still to come.
We were very fortunate to have had external support from a local B Corp advisory company, and we were able to get help from other local businesses who had been through the process. If you are embarking on this I would highly recommend reaching out to others who have been through it, as the process can look quite daunting initially, but when you break it down it really is manageable and rewarding.
What's next for Rocketmakers following becoming B Corp certified? 
The important thing to remember is that achieving the certification isn't the end of the journey.  We will need to recertify every three years and to improve our score each time. The great thing about the verification is that it helps us to identify areas of improvement to focus on as part of our ongoing strategy. We will ensure that we include goals for B Corp when we do our quarterly and annual planning for the business and keep our working groups focussed on improvements.
For now though, we will raise a celebratory glass and maybe take a few weeks to sit back, reflect, and share the exciting news about our B Corp accreditation.
For more about how we're working towards our impact goal, take a look at our inaugural impact report.