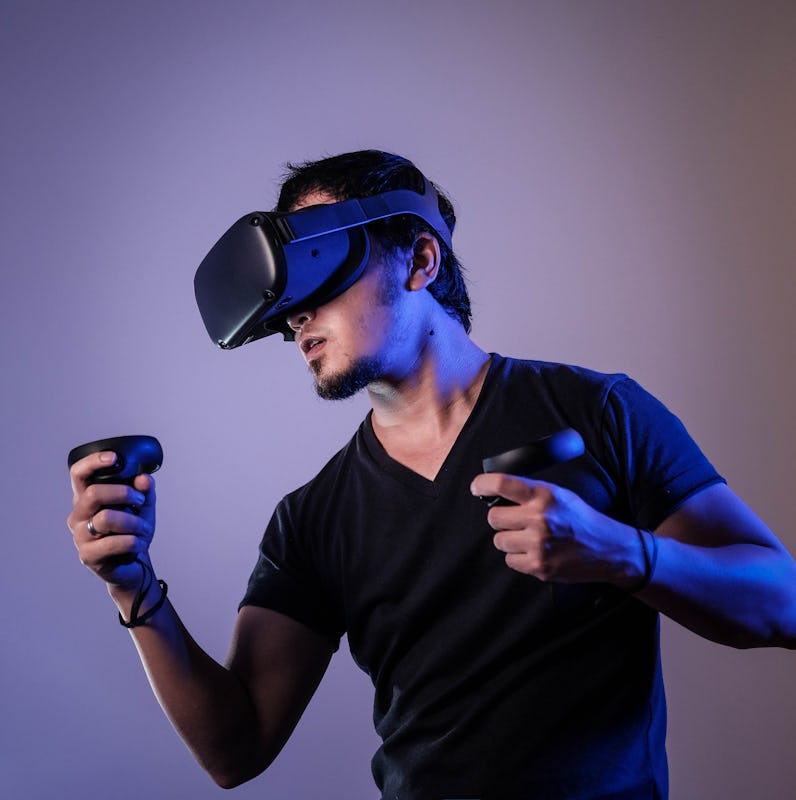 2022 To the Metaverse and beyond…
2022 looks set to be our most exciting year yet at Rocketmakers. Considering how many milestones we've passed recently, that's really saying something!
One notable milestone is we recently passed 50 team members, after our headcount more than doubled during 2021. 2022 will likely be a year of adjusting to our much bigger size, but so far it's been an encouragingly positive experience.
One of our early goals when we founded Rocketmakers was to create a company with a collaborative, supportive culture. We've always been very protective of this culture, and have often turned down qualified candidates we didn't think were a good cultural fit. The challenge of doubling in size inside a year, all while working remotely during a pandemic, was huge. If you'd asked me if we could maintain Rocketmakers' distinct uniqueness in such conditions a couple of years ago, I would probably have suggested not.
And how wrong I would have been!
The last two years have been difficult for everyone, but one of the genuine bright spots has been walking into our newly reopened office, seeing faces of people I had only spoken to on a screen, and for it to still feel exactly like the Rocketmakers of old.
Our new head of HR, Sian Cox, deserves a huge amount of credit for this. I also like to think that the Rocketmakers culture we spent so long developing is helping to attract a diverse bunch of like-minded people who want to build genuine innovations that make the world a better place. 
As things continue to open up (hopefully), we now face the challenge of being a team with nearly 60 people working in an office with just 30 desks. We expect the flexibility of being able to work from home and in the office will continue to be something that our team values -- we'll have to wait and see how everything develops. We have learned that remote working can create challenges, especially for new crew members, when it comes to cross communication and learning. One thing's for sure -- we remain committed to being based in Bath and will be developing the right, flexible office solution as 2022 progresses.
As well as growing in size, Rocketmakers has always aspired to improve how it works, especially when it comes to reducing our impact on the environment and ensuring our policies and procedures promote social good. 
We recently submitted an application for B Corporation (or "B Corp") status, which is an international recognition administered by B Lab, which is given to private companies who meet certain social and environmental standards. Several of the companies we've helped on their journey, such as Neighbourly, have this certification, and being a B Corp will also make it much easier for us to document the ten year goal to help 10 million people with our software by 2030.
One event that should be fun this year is Rocketmakers' 15th birthday, which we will be celebrating this October. It's wonderful that a decade and a half after our start, we are still working on projects at the cutting edge of technology, and continuing to grow and expand year on year!
Speaking of cutting edge technology, 2022 looks set to be a big year for our in-house technology project, Beam (https://beam3d.co).
Beam is a content management and analytics system for virtual reality and augmented reality - two technologies which everyone is talking about since the rebranding of Facebook as Meta, and their emphasis on promoting a Metaverse.
The current state of the Metaverse, such as it is, is very similar to the early days of the World Wide Web. Yes, back in 1991 anyone could in theory build a website, but specialist knowledge was necessary to do much of anything back then. Today, there are plenty of user-friendly content tools which allow nearly anyone to build a slick looking website in a matter of minutes. Beam is positioned to play a similar role in the Metaverse, allowing non-specialists to manage content in virtual environments through drag-and-drop interfaces that require no coding or technical expertise.
During 2021 we worked with Sky to test a virtual environment for watching sports broadcasts - an environment which could be updated with new virtual objects to reflect the sport being broadcast. 
During 2022, we are hoping to test Beam with more partners, and show the world what a Metaverse anyone can manage could look like. We think the prospects are extremely exciting, and we're confident that once people see the advantages Beam creates there will be many other people getting excited as well.
Bigger than ever and right at the cutting edge of technology with our culture fully intact. This is exactly what I would have wished for for Rocketmakers' 15th birthday. 2022 is set to be amazing!
Image source: Minh Pham on Unsplash
Rocketmakers is a Bath-based software development agency on a mission to have a direct, positive and meaningful impact on the lives of more than 50 million people through the software they build and the support they provide.