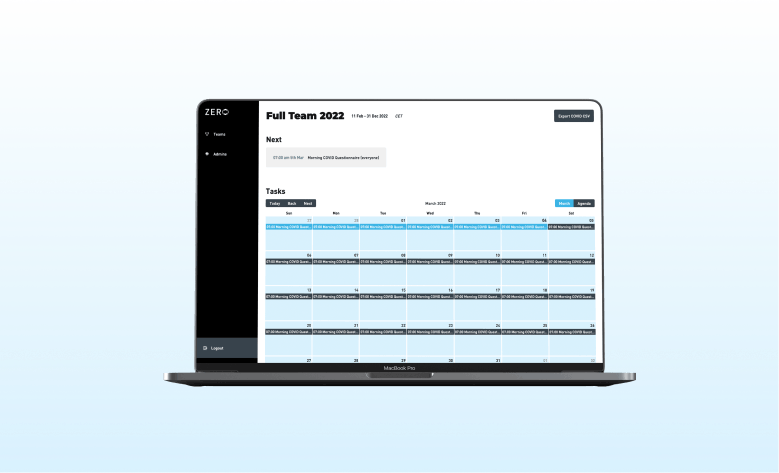 Ineos
The situation
The UK's top cycling team needed a wellbeing-management app URGENTLY!
During the Summer of 2020, just a few months into the global COVID-19 pandemic, the Ineos Grenadiers cycling team (formerly known as Team Sky) contacted Rocketmakers with an urgent request. They needed a software platform to help manage team wellbeing, and track COVID-19 symptoms among athletes and support staff worldwide - and they wanted it up and running in two weeks!
Rocketmakers has a long track record of building apps for Britain's elite athlete community, so we understood the issues well. Still, with only two weeks to produce an effective and reliable app, some seriously creative thinking would be needed!
The task
Rapidly building an app which could work anywhere on any system
Ineos needed a reliable system for collecting messages from all athletes and support staff on a schedule, which could then be used to monitor their wellbeing and log symptoms. This data was to be collected and displayed on a user interface, which would allow team administrators to ensure everyone was okay and complying with regulations before a race. 
With athletes and support staff training at different locations around the world, collecting data on mobile devices seemed like the obvious option, but building a reliable smartphone app which would work on any phone (iOS or Android) in just two weeks was essentially impossible (not least because getting an app approved for Apple's AppStore can take more than two weeks on its own).. 
Our approach
Sometimes you gotta go old school!
Ineos Grenadiers needed a system which was robust and reliable rather than visually impressive. User interface design and fancy graphics were a very low priority.
Rocketmakers' developers are always looking for opportunities to use the latest and most cutting-edge technology. However, the goal is always to select the solution which is best for meeting a client's needs. After considering a range of options , the development team decided to focus on an older technology which worked on virtually every mobile phone in every country in the world: SMS messaging.
Although it's been two decades since SMS was a cutting edge technology, using it to collect information solved three problems at once:
An SMS-based system would allow athletes and staff to supply data via mobile phones 
SMS messages work on all mobile phones, regardless of make or model, and all levels of network connectivity
No need to build and manage separate iOS and Android app versions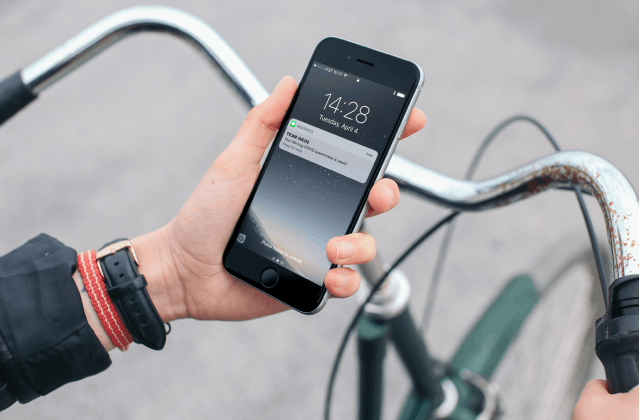 The solution
Repurposing a sales tool to collect wellbeing data
Rocketmakers decided to use a service as a software (SaaS) tool known as Twilio as the central technology for the Ineos app. Twilio allows companies to send automated SMS messages to customers, receive replies, and log the answers in a database.
Although Twilio is more commonly used by marketers as a customer engagement tool, it provided all of the features Rocketmakers needed to create an SMS-powered athletic data collection platform. 
Using Twilio, Ineos administrators could program automated SMS messages to be sent to all key personnel at specific times. For example, to keep track of COVID symptoms, Ineos sent out symptom checks every morning at 7am and 8pm. Users would reply to each text, and Twilio would automatically send out further instructions to anyone reporting symptoms. 
In addition to checking for COVID symptoms, Ineos also used the platform for other various wellbeing and hygiene checks.
Administrators run the system using a Rocketmakers-designed dashboard, which allows them to create events (races or training camps), program SMS questions and responses on a timed schedule,  and upload a phone number for each participant. The dashboard displays graphs to help visualise responses, and has a data exporting feature to help Ineos share its records with event organisers. 
The impact
A robust team management platform for the entire pandemic
When the Ineos application was first conceived, it was far from clear that the pandemic would last for nearly two more years. At the time, Ineos Grenadiers just needed a solution, and speed of delivery was the top priority.
Despite the rapid build, the Ineos app stood the test of time, and was used regularly by Ineos Grenadiers through the Spring of 2022. During the time of the app's use, Ineos Grenadiers won several major competitions, including first place finishes in the 2020 and 2021 Giro D'Italia, and first place finishes in the 2021 and 2022 Tour de Suisse. 
As the safety protocols around COVID have been relaxed, use of the Ineos app has been paused. It remains fully operational, however, and can be revived if and when another similar health emergency arises in future. 
Filter by Project Categories