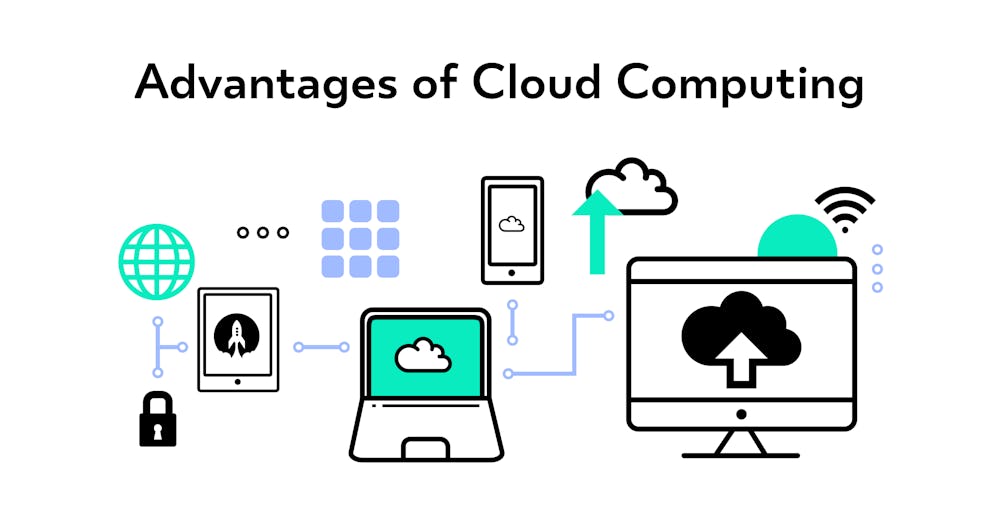 The Advantages of Cloud Computing
In recent years, cloud computing has truly taken the world by storm. In fact, according to a 2020 survey by Deloitte, more than 90 percent of global enterprises will rely on hybrid cloud by the end of 2022.
For many business leaders who were otherwise unconvinced about the benefits of cloud computing and digital transformation, the pandemic proved to be the catalyst. In fact, huge thanks can be given to cloud computing as the technology that allowed many businesses to continue operating throughout a crisis that could have easily destroyed them. In one study, 51 percent of UK business leaders reported the shift to a cloud-based business model as saving their company during the unprecedented pandemic. Cloud technology was the vital lifeline that facilitated the shift to remote working for organisations big and small.
Now, more and more businesses are adopting a Cloud-first approach, updating old siloed legacy systems and streamlining a whole range of tired work processes with a much more modern and agile approach. According to Gartner, by 2024, more than 45 percent of IT spending on system infrastructure, infrastructure software, application software and business outsourcing will shift from traditional solutions to the Cloud. 
But just why exactly are more and more businesses opting to migrate to the Cloud? In the latest Rocketmakers blog, we're going to explain some of the many business advantages of cloud computing. Read on to find out more!
#1 — Cost savings
The most commonly experienced benefits of cloud computing relate to cost savings. When moving your operations to the cloud, you are essentially paying for what you use, typically on a pay-as-you-go system. This means that you won't be wasting money on things that you don't necessarily need. For instance, you'll only pay for the storage space you require, with the option to scale up or down in line with your business needs. 
Businesses choosing to adopt cloud computing will also benefit from the savings of no longer having to purchase new equipment or invest in updating existing infrastructure. This is particularly valuable for growing companies and startups where investing in additional hardware is not always viable. 
Cloud computing also reduces costs related to downtime. Unlike traditional systems, downtime is rare in cloud systems, which means you'll spend far less time (and money) having to fix rising issues related to downtime. Hoorah!
#2 — Data security
In a world where cyberattacks are becoming increasingly common, one of the growing concerns for businesses is the security of its data. Whilst many business leaders show concern for the security side of switching to a cloud computing solution, in most cases, it is actually far more secure than on-premise traditional IT. 
Today's reputable cloud providers have strong, multi-level firewalls amongst a myriad of robust security tools and features such as granular permissions, access management and encryption. Adding to this is the fact a cloud host will continuously conduct regular audits and monitor security — significantly more than an in-house system. 
With cloud hosts also having the responsibility to comply with regulatory mandates, frameworks and laws, customers automatically become the beneficiaries of deploying on an architecture which has been heavily invested in. According to RapidScale, 94 percent of businesses experienced an improvement in security after switching to cloud computing. So if software security is a top priority for your business, cloud computing is absolutely the way forward.
#3 — Sustainability  
With global warming on the rise, businesses are having to do more than simply pop a recycling bin in the office and pin up a "how to recycle" poster. It's not enough to share a social media post on the company's Twitter on World Earth Day and feel the business has done its part for the planet for the year. Today we need real action and solutions from businesses to address the growing issue of climate change. Amongst a myriad of other things, switching to the cloud is one way to drive your business processes to be more sustainable. 
Some of the biggest cloud providers of today all heavily invest in the development of green energy. The Google Cloud, for instance, has committed to operating its data centres carbon-free 24/7 by 2030. According to the global goliath, they are delivering seven times more computing power for the same amount of electrical power than they did six years ago. 
Microsoft has also committed to shifting its data centres to a 100 percent supply of renewable energy by 2025. Azure customers can even access a carbon calculator that tracks emissions associated with their own individual workload on the cloud. 
With the improved energy efficiency and environmental proactivity of switching to the cloud, your business can contribute to a better tomorrow. Studies from Microsoft and Amazon AWS have predicted a carbon footprint reduction between 88 - 98 percent for cloud compared to in-house, on-premise solutions.
#4 — Greater speed and productivity 
Cloud computing also offers users increased speed and productivity in a number of ways. Firstly, in terms of the deployment of new resources, the use of cloud services enables businesses to move much faster on projects. With just a click of a button, businesses can access a wide variety of cloud services, such as productivity applications or CRM tools, that will allow you to scale your projects whilst drastically cutting down on lead time. This is opposed to on-premise where you typically build new systems from the ground up.
Greater speed is also associated with processing. The almost limitless compute resource of the cloud offers users the benefits of greater processing speed. Tasks that may have taken hours to process on in-house traditional IT infrastructure can be processed in a matter of minutes on the cloud. The time saved can free up your IT team to focus on other, high-value productive tasks to benefit the business. 
Whilst we are on the point of productivity, many of the top cloud services available today offer an excellent variety of tools and features that can significantly reduce administrative burden. For instance, users can access cloud dashboards, real-time statistics, plus much more. 
#5 — Increased collaboration 
No one can deny the old saying "teamwork makes the dream work", right? When your team members combine their knowledge, expertise, and skills when working together on projects, incredible results will happen. This brings us onto the next advantage: cloud-based collaboration. 
The mobility that cloud computing offers means that teams can access, view, and share documents, data and resources anytime they wish — anywhere, and on any device. This is especially valuable in today's age, with more and more teams working remotely. Cloud-based platforms make collaboration a simple process, with a wide variety of tools available to make it an interesting, engaging and stress-free experience for all those involved. This includes real-time data sync, ensuring your team is always working on the latest version of a document, and access to large files without the time-consuming need to email. 
#6 — Scalability
Cloud computing services are perfect for those businesses with demands that are constantly growing or fluctuating. The fantastic thing about cloud services is that you can adapt them to your demands — whether that's upping your bandwidth or reducing your capacity. 
This level of agility offers businesses a real advantage over competitors. You are given total freedom and control over your IT infrastructure, only paying for what you require. Unlike with traditional IT where you may have to make heavy investments in physical infrastructure,  operational issues and maintenance, with cloud computing, your risks are minimised with top-quality resources at your disposal on a pay-as-you-need basis.
Considering the Cloud?
Hopefully, you now have a greater understanding of just some of the many benefits of cloud computing that have led a growing number of organisations, large and small, to make the switch. 
Whilst moving your files to the cloud might sound daunting, it's a move that is likely to take your business to the next level, with those who utilise the cloud creating more efficient, dependable, and scalable business processes and systems. The bottom line is that cloud computing is the future of business. With more than 92 percent of companies using services that are connected to or run in the cloud, it's clear the trend toward cloud-based computing is here to stay.