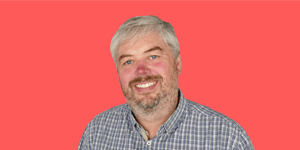 Talking tech: Interview with Richard Godfrey, CEO of Rocketmakers
Our CEO Richard Godfrey spoke to BDO about how to prepare for success and common challenges for all businesses.
Providing startups, scale-ups and corporations with software design, development and investment advice has given Rocketmakers – and its CEO, Richard Godfrey – a unique insight into what factors are vital for business success.
Whether it begins as the germ of an idea, a continuation of a great concept or an extension of an already-successful business, Rocketmakers provides expert insight into how to plan ahead. We sat down with Richard Godfrey to understand his insights gleaned through working with companies of all sizes, and to understand what makes an idea worth pursuing…
BDO: What does Rocketmakers do for businesses?
At Rocketmakers, we work with and support a range of different types of businesses. The first type are very early stage startup businesses – often people who have only got an idea - frequently come to us and pitch their concept. We help them build their idea, and potentially grow it.
The second type of company that we work with are scale-up businesses, who have often already created something as a start-up idea either offshore or with contractors. They want to be sure that it will scale as a business reliably and securely, so we help them re-engineer their offering for growth.
The third type falls under 'corporate innovation' - that, for us, are bigger companies who want to behave like start-ups. Perhaps their internal processes or their internal people and skills are currently focused on running the business, and not really about changing the business. That's where we come in to help build out that side of the business.
Overall, we help guide businesses with their structure, building prototypes, creating concept versions of their idea, and often we'll introduce them to investors who might be interested.
BDO: What makes businesses appealing to work with or invest in, for Rocketmakers?
We like to work on projects that are going to create a genuine innovation or change the world; projects where there's some genuine software engineering behind it for a reliable, scalable performance product; and ideally for us, projects that contribute to the social good. It's also important for us to have good chemistry with the companies we work with.
What advice or support do you give across the board that is helpful to all business sizes? Lots of our advice is common across all types. There are obviously some differences; for very early startups, for example, there's a lot of business advice and just generally helping them to understand the sorts of things that they might need to look at, such as the steps they need to take to raise money. We give them a lot of advice around what investors are looking for, and therefore what we would be looking for in order to work with them. We often guide them in understanding that they have to have a passion for the problem, as well as for the solution.
One key bit of advice we give all our clients is to have the adaptability to be able to change things. Though that might seem very startup- oriented, across the board it's really about having adaptability for the technical implementation side of things. You have to build things that you know are going to change and grow in the right way, putting the infrastructure and the architecture in early.
We spend a lot of time working on getting the fundamentals right with each organisation, and I think that's vital whether you're a big organisation trying to create a startup, or a scale-up that's fighting all of the demands that you have on your time to enact your plan. It's across the board.
BDO: What should businesses focus on first?
The most important aspect to focus on is to think of the long-term, strategic view, and act tactically. Often the steps you need to take are dependent on investment you have at the time, or they revolve around when you will get investment.
A lot of our early discussions with startup and scale-up businesses are about questions that an investor would ask. This helps businesses decide what's worth spending their time on, and what can be put aside for the right time; often creating a pitch document helps you determine the immediate actions needed.
BDO: Is having the right team an important factor for success?
What we've learned over a decade of investing in small startups and early stage businesses is that the team is definitely the most important part of building a business.
Making sure that the people behind the company have the right approach, are coachable, and really understand the problem that they're trying to solve, helps the business grow and scale correctly. It's a very lonely journey being an entrepreneur, so we make sure there is enough help and support around them to help them achieve their goals.
BDO: Is there a universal expectation that all businesses should have?
Things always take longer and cost more than you expect! For example, when businesses are looking for investment, we spend a lot of time helping people find investors in the business, but trying to find the right investor is always the challenge. Certainly, in the early stages, it's not that hard to raise some money, but it's quite hard to raise the right money. We help people in trying to understand that not all investment is right, and that you need to plan for things being much more expensive and time-consuming than you might plan for.
BDO: Are there some common hurdles that businesses come to you to solve?
Quite a common problem that we find businesses run into is that they raise too little money in the first instance. There are obviously tax incentives like SEIS and EIS, which are great for getting early investments or the first investment into the business, but sometimes that's not enough to get an idea truly fleshed out properly - there's a £150,000 limit on SEIS, for example. What you tend to find is that companies gravitate towards that amount, because that's where the tax efficiency is. However, they often find £150,000 is not enough to get the product designed, built out into the markets, and the feedback needed to develop it to the point where you can raise more money for a better valuation. When they ought to be focusing on the market and driving the product, they end up worrying about the finances.
If companies raise more money in the first instance, it means that they have more of a run up to get past this type of hurdle and be able to raise the next round of money for a better valuation. This obviously keeps existing investors engaged, and it keeps the company moving forward to get the product out faster. It's a win-win.
BDO: Does this situation differ for larger companies?
By the time a larger business is looking to launch a startup or scale-up branch, they've normally got a board, with proper advisory, and have some experience. But there are different demands of those different businesses - when you're at that sort of stage, you then have investors who are looking for the return on their initial investment. The pressures are much more about how you're driving towards an ROI, and often larger businesses believe they'll have a three to five-year exit. In reality, it's more likely to be an eight to 10-year exit. The hurdle there is about managing expectations.
BDO: What unique insights have you gained in supporting businesses?
When we started out, we thought the idea was the "silver bullet", or the thing that mattered the most for success. Our experience has taught us that it is quite the opposite. It's actually about the person driving the business and the perseverance they have. What we invest in now is the people behind the idea.
We've also learned that it's really about timing. I think we didn't realise early on that you can have the right people and a great idea, but if just the market isn't ready, or your timing is too early or too late, it can have a huge impact on success.
The main thing that we've learnt – and that we try to impress upon the businesses we work with – is that they need to care about the problem, rather than only caring about the solution. Some entrepreneurs have a fixed idea of how they're going to resolve an issue, but when you get that solution into real people's hands and ask them to pay for that product, the feedback is that they need something different. If you care more about the underlying problem, and less about your fixed solution, then you have more success.
BDO: What recommendations would you have for businesses currently experiencing difficulties due to the COVID-19 crisis?
The key things to remember during this current situation is to try not to panic – remaining calm is vital, and to conserve cash where you can. Staying positive even though the situation is difficult, and to do what you can to help others in this time of need, are also important – give now to get back in the long run!
This interview was first published on plugd:in, BDO's tech content hub – click here to visit.
At Rocketmakers we leverage our experience to build innovative software for companies of all sizes. If you have a vision for a project and you need a technical partner to help you design, develop and deploy it, get in touch: [email protected]