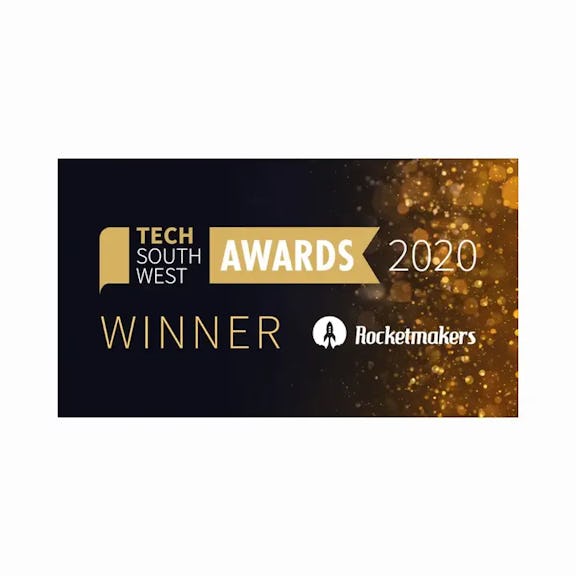 Rocketmakers wins Best Tech Workplace award
Rocketmakers was awarded the Best Tech Workplace award at the Tech South West Awards on Thursday night.
The Tech South West accolade is the second best-workplace-type award won by Rocketmakers in 2020, and the third in three years.
Like most awards events in 2020, the second annual Tech South West Awards were held in a virtual fashion. Finalists and supporters logged onto a video stream at 7:30pm Thursday night with fingers firmly crossed.
Competition was tough - Rocketmakers was up against fellow finalists FDB (First Databank), Mintivo, Moortec Semiconductor, and Singer Instruments. It's hard to get a sense of the palpable tension when we're all in our homes across the South West, but the anticipation paid off when Rocketmakers was announced as the winner for Best Tech Workplace.
Our CEO Richard Godfrey was thrilled to notch up another best workplace award, and thought being recognised for providing a great working environment in 2020 was especially important.
"Everyone has had to revise what we mean by 'workplace' in the last nine months," he explained. "We've always been proud of the physical workplace we have provided to our team since opening our Manvers Street offices in 2018, but this year the investments we've made in mental health and a positive company culture have been all the more important."
The award is the third occasion in the last three years when Rocketmakers has won a similar award.
In January 2020, Rocketmakers was recognised as Employer of the Year by the South West Business Awards. Rocketmakers also won the Best Place to Work Award at the 2018 Bath Business Awards.
At Rocketmakers we leverage our experience to build innovative software for companies of all sizes. If you have a vision for a project and you need a technical partner to help you design, develop and deploy it, get in touch: [email protected]