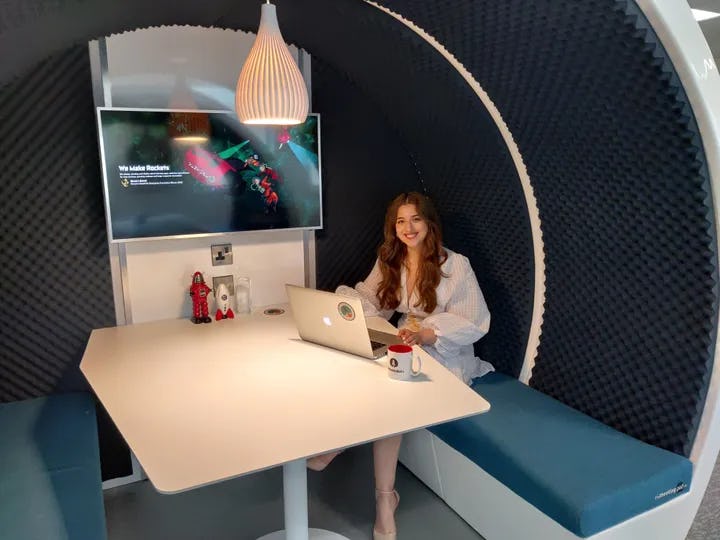 Rocketmakers welcomes work experience students back
Rocketmakers has been very pleased to be joined by computer science and software engineering student Ekremina Arik for a week of work experience at our offices in Bath.
Ekremina is the first person to join us for work experience since the lockdown began in early 2020, and we hope to host several more people interested in technology careers during 2021.
Designer and front-end developer Alice McNeil first met Ekremina on LinkedIn earlier this year, during a Rocketmakers recruitment drive. With one remaining year at the University of Bedfordshire to finish, Ekremina wasn't in a position to apply for full-time work, but was very interested in the opportunity to spend a week at Rocketmakers HQ.
Starting on Monday, she began helping Alice process tickets for the in-house Rocketmakers product known as Skillsdeck. After two years of learning about software development in the classroom, Ekremina found working with a real-life product was an exciting prospect.
"When I saw my first ticket it was a bit scary," she explained. "But I had confidence that I had the ability to solve the problem. I researched solutions, and spoke to Alice, and actually we were able to close that ticket fairly quickly.
"Other tickets have seemed more complicated at first," she continued. "A bug can at first seem like it has an easy solution, but then you realise that solution will have knock-on effects, and suddenly you can find yourself with a very complex problem. That was a challenge, but it made finding solutions very satisfying."
Another example of real-life experience Ekremina has particularly valued is getting the chance to work with Agile methodology.
"I've had lectures which try to explain Agile, but working on actual problems using Agile is really different from just talking about it as a theory. Sara (Rocketmakers Project Manager and Outreach lead) spent part of the first day showing me how Rocketmakers apply Agile methodology, and how they conduct sprints. It's been fantastic to see this up close and in real life."
In addition to the chance to experience real-life software development, Ekremina has really enjoyed getting to know everyone at Rocketmakers.
"This is my first work experience in an actual tech company, and I've really loved it. Everyone is so friendly. It's like a little family. And if I needed help, everyone has been happy to answer questions or provide advice. Even though I've only been here a week, I've felt like part of the team, and that's been amazing."
At Rocketmakers we leverage our experience to build innovative software for companies of all sizes. If you have a vision for a project and you need a technical partner to help you design, develop and deploy it, get in touch: [email protected]