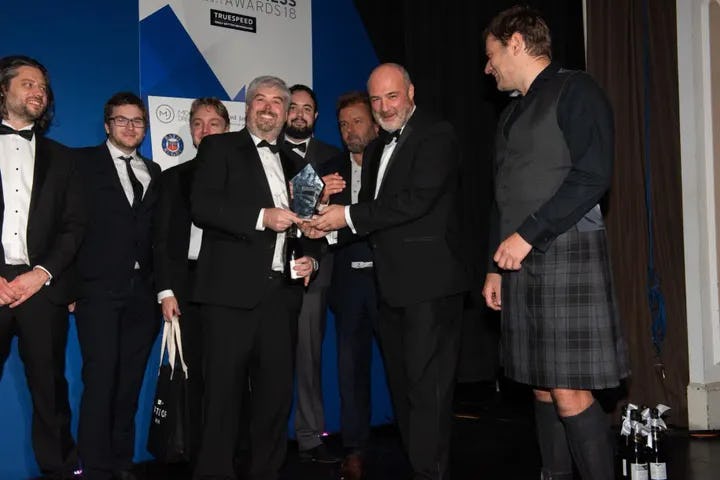 Rocketmakers was named the Best Place to Work in Bath at the 2018 Bath Business Awards!
Rocketmakers was named the Best Place to Work in Bath at the 2018 Bath Business Awards last night.
The annual event produced by the Bath Chronicle was held at the Bath Pavillion and hosted by Homes Under the Hammer presenter Martin Roberts. Rocketmakers was shortlisted in two categories: Small Business of the Year and Best Place to Work.
Winning Best Place to Work was far from a sure thing for Rocketmakers. Other finalists included Rocketmakers' client Pure Planet, who received national attention for their progressive family leave policy in April.
Rocketmakers' may have had an advantage over other entries because of its unique corporate structure. With no real job titles or middle management, office politics is kept to a minimum. Developers are assigned to work on a wide variety of projects based on their skills and interests to ensure the work is always engaging.
In June 2018 Rocketmakers also invested in a brand new office, centrally located near the train and bus station, and equipped with ergonomic furnishings and communal work stations in the shape of a large rocket!
Co-founders Richard Godfrey and Keith Walker, as well as four other Rocketmakers employees, were on hand to receive the award from Martin Roberts.
"We were up against a tough field so winning the top workplace was a huge thrill for us," Richard explained. "I know Pure Planet has some very progressive employee benefits - some we are considering replicating at Rocketmakers I might add - so I was half expecting them to win."
"From the start, Keith and I have really worked to make sure Rocketmakers is a fun, relaxed, and interesting place to work. It is great to see the hard work recognised with an award."
The Best Place to Work caps off a very successful 2018 for awards at Rocketmakers. The team has also been recognised with two Bath Life awards, a Creative Bath award, and a Queen's Award for Enterprise.
At Rocketmakers we leverage our experience to build innovative software for companies of all sizes. If you have a vision for a project and you need a technical partner to help you design, develop and deploy it, get in touch: [email protected]