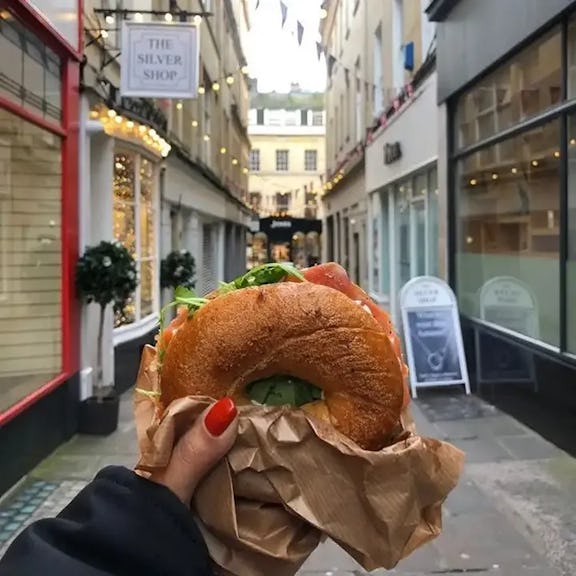 Rocketmakers team member Ben Long creates BagelCreators
Rocketmakers regularly seeks out "tech for good" projects to support, but team member Ben Long has gone a step further by producing "tech for good breakfasts."
He calls his new web app, "BagelCreators," and it supports one of the most beloved institutions at Rocketmakers: Fat Friday.
For the last decade, Rocketmakers has ordered everyone in the office each Friday morning the breakfast of their choice, and delivered it to their desk. As Rocketmakers has grown over the years, from a handful of people in a small office to a team of nearly thirty spread over an entire floor, assembling the weekly order has increasingly become a bit of a headache.
"At a team meeting someone suggested that we should have a software solution to make ordering more efficient," Ben explained. "It was said as a joke, but I thought the idea sounded interesting.
For years we had passed around a handwritten sheet, but this was hard to read and could take ages for it to get to everyone. We moved to a spreadsheet, but information was not entered in a consistent format, and someone still had to chase people who had forgotten to place their order. I decided we needed to finally create a system that was easy and efficient to use."
For the next month Ben worked on his breakfast ordering web app in the evenings, at weekends, and on Friday afternoons when Rocketmakers developers are encouraged to experiment on projects of their choice. Because Fat Friday orders were placed with the Whole Bagel in central Bath, he named his app Bagelcreators.com.
"Besides making something useful, I also wanted to build an entire app myself. I don't normally do much backend development, and this gave me the chance to work with a new technology at the time called GraphQL."
When complete, BagelCreators.com allowed Rocketmakers to place orders for the entire office in an automatically generated email. Every user has the option to customise their order, and each user could copy the customised order another user had created. Users are also able to repeat a previous order with the click of a single button, which speeds up the ordering process significantly.
When the first order was placed to Whole Bagel, co-owner James Hamilton was so impressed he made the delivery in person so he could ask how it had been done.
"Friday mornings are very busy for us because of the number of group orders that come in from offices around the city. We got that order from Rocketmakers for twenty people, and everything was laid out clearly in an easy to read format that made everything really easy for us. I wanted to compliment whoever had placed the order so I decided to deliver it myself. When I was told that Ben had designed a special bit of software to order bagels, I was really shocked!"
"We receive group orders in all kinds of formats. Some people call them in, some bring us handwritten notes, and some people email. We try to customise every bagel order, though. Do you want your bagel toasted? Do you want butter? With larger orders it is much harder for whoever is organising it to include all the information we like to have. What Ben did was really impressive, and certainly made life easier for us!"
At Rocketmakers we leverage our experience to build innovative software for companies of all sizes. If you have a vision for a project and you need a technical partner to help you design, develop and deploy it, get in touch: [email protected]