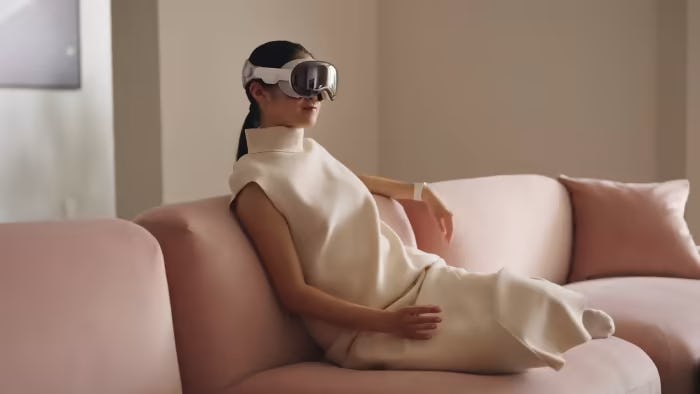 Rocketmakers reaction to the launch of the Apple Vision Pro
This week Apple launched the Vision Pro, their long-awaited entry into the 3D headset market and silicon valley's worst kept secret. We've been working in this area for years, so naturally we have plenty of thoughts and opinions. Read on for Rocketmakers' CEO Richard Godfrey and COO James Routley's initial reactions to Apple's long-awaited brave new future.
While clearly expensive, the price point is not unexpected. The question arises about who the headset is this aimed at. We feel this first model is squarely aimed at the 1% who can afford every Apple product. Influencers will have them and the content they produce will help these units become aspirational in the tried and trusted Apple way.
It's called the Vision "Pro" - so we expect there to be a more accessible unit with a lower price point in the future. But its still not likely to be ever seen as cheap though.
We're interested that Apple called it a "Head worn computer" - not a gaming device or a VR / AR unit. Is their use of the term "Spatial computing" the new "Metaverse"? Of course the Microsoft Hololens, that we've used extensively for 6 years, is very similar with everything built into the headset.
There was a lot of focus on entertainment, but also on productivity. This is an alternative way of getting your work done with greater focus, potentially on the go or in a hybrid fashion - as long as you don't mind doing it in ski goggles.
It appears to be positioned slightly more towards 'isolated' experiences - those where the user wants to leave their real life environment behind. Although there is a strong Augmented Reality focus, this didn't come across in the launch content. There was collaboration shown in the presentation, but most of the usage was a single user in a largely distraction-free environment, focusing on a particular task or item of content.
While there were good use cases for working and the workplace, most of the use cases shown appeared to be placed in the home. This may be a reflection of the current hybrid state of screen-based work but we believe Apple knows its initial market is for wealthy consumers rather than business users.
The headset is designed to be fully part of the Apple ecosystem and sit alongside iPhone, Mac and iPad and Apple Watch. So app designers will be expected to create experiences for the Vision Pro. Existing 2D applications will function and can be positioned and re-sized within your 3D space, but what are the possibilities for 3D versions of your favourite apps? 3D shopping so you can walk up and down the aisles? 3D weather forecasts that put you inside tomorrow's weather? It feels that, beyond gaming and err… one other application, we're still waiting for the 3D killer app - yet history shows from the web and mobile that killer apps are the real value to consumers rather than the hardware.
The sight of a man at his young child's birthday party wearing the Vision Pro headset to capture the moment actually felt a little weird/disconnected! Showing the wearer's eyes from the front display is an innovation that will be critical in whether this type of device will become accepted in social situations. Is it convincing or spooky? Doubtless the devices will get smaller and lighter over time. Apple either feel they've hit a sweet spot now in acceptability or maybe they just couldn't wait any longer?
The removal of hand-held controllers and the reliance on eye and hand movements is hopefully a huge step forward in usability (notwithstanding the Hololens and our friends at UltraLeap who have done this for years), but we were left with questions about how Apple will help those with sight and limb differences. Apple's record in accessibility is pretty good - so we are left to wait and see how they will approach this, presuming that they've got it in mind.
Finally, the link up with Disney could indicate special entertainment content that is designed to be immersive. Movie studios have long struggled to find the 3D technology that truly excites and engages consumers. The announcement with Unity will be hugely welcomed by developers like Rocketmakers who use it daily when making immersive experiences.
As one of the UK's foremost developers of 3D VR / AR tech, of course we will be watching closely and learning how to develop for the Vision Pro as quickly as we can. Apple will have Developer Labs for the Vision Pro in six locations in the World. We hope be at the one in London and to have a unit here in the office soon - perhaps you can drop in and see what the fuss is about?