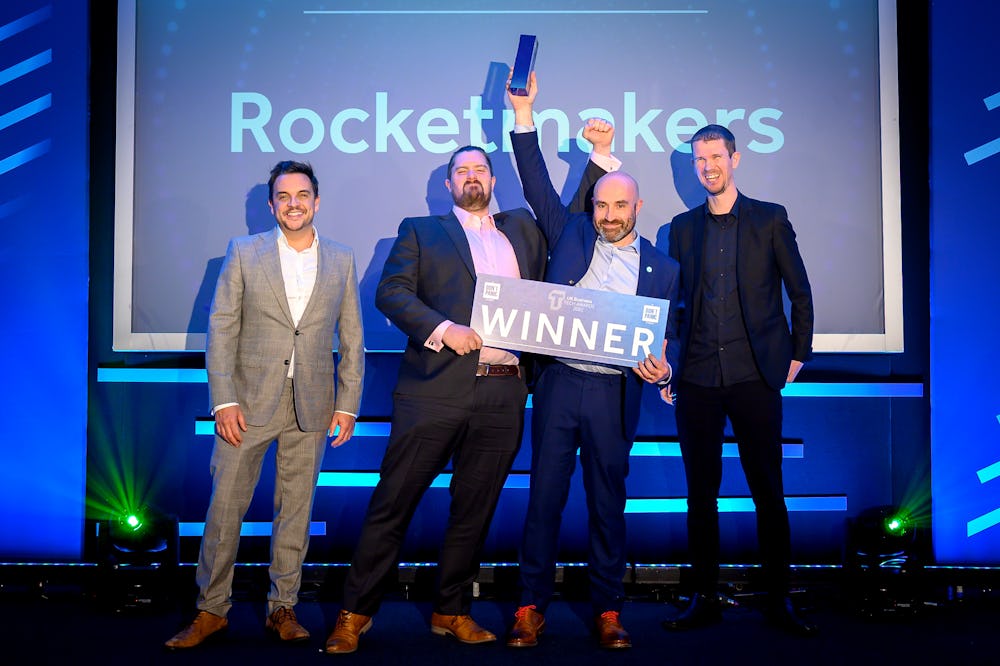 Rocketmakers named UK Digital Agency of the Year
Rocketmakers was named UK Digital Agency of the Year at the UK Business Tech Awards event in London last night.
Now in its fifth year, the competition celebrates the UK's finest tech businesses, and rewards innovative and exceptional application of technology to transform and grow businesses.
The UK Digital Agency of the Year category, described by the organisers as "the big one," was the final award of the night. Competition was tough, as five other agencies with national profiles were also on the shortlist. 
"It was a great moment when they called out 'Rocketmakers,'" COO James Routley said. "By the time we got to the last category of the night, we were aware of how many great agencies were represented in the room. It was a huge honour for us to be named the winner."
The feedback from the judges was full of praise.
"The blend of client growth and staff retention rates were really admirable. We really liked how the campaign told a story, but had lots of statistics to validate it. Overall, we felt that Rocketmakers demonstrated continuing innovation of services whilst also evidencing commitment to employees. Our 2022 Digital Agency of the Year!"
Last night's event was the second time Rocketmakers has been recognized with a prestigious national award during 2022. At the Go:Tech Awards in May, Rocketmakers won the Best Use of AR/VR, and Most Innovative Use of Software categories. 
Rocketmakers has also taken home trophies this year at the SPARKies, the Creative Bath Awards, and, most recently, at the BathLive Business Awards. 
At the upcoming Tech South West Awards (held on 10 November), Rocketmakers is nominated for Tech Company of the Year and Best Workplace Culture, while CTO Keith Walker is nominated for the Tech Leader Award and CEO Richard Godfrey is nominated for a Lifetime Achievement Award.