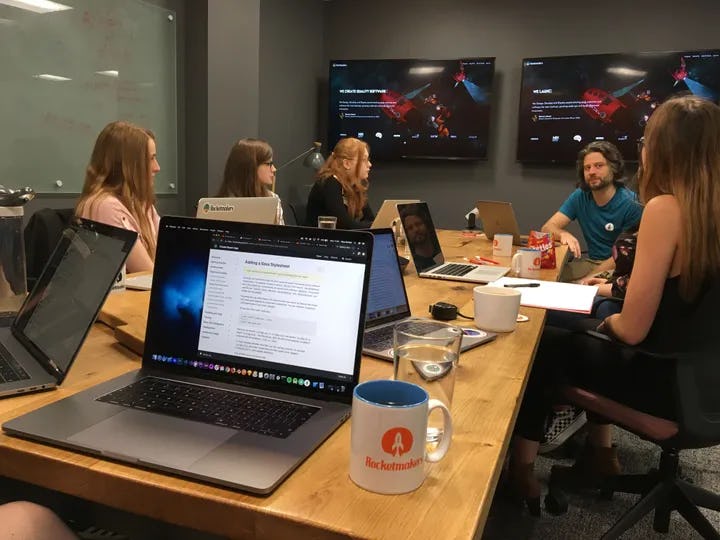 Inspiring the next generation of innovators
Making the world a better place is something we talk about a lot at Rocketmakers, and we think helping to inspire the next generation of innovators and developers is a very important way to do this.
This summer has certainly been a bumper season in terms of outreach to young people in the Bath area and across the UK. Here's what we've been up to:
In early June we took part in an Industry Insight presentation organised by Bath College. Along with my colleague Alice, who specialises in design and front end development, we presented a 30 minute talk about Rocketmakers and the type of work we do to a group of Bath College students interested in learning more about the tech industry.
A few days later we were joined by Ekremina Arik for a week of work experience. A software development student from the University of Bedfordshire, Ekrimina spent her week helping Alice complete frontend tickets for our in-house system Skillsdeck. She also got to participate in several regular Rocketmakers meetings and standups to learn what it's like working for a busy software development company (for more about Ekremina's week with us - check out this blog post).
In terms of outreach, July was even busier than June!
Developers Harry and Robbie hosted two Digital Skills Events for people wanting to learn how to break into the industry. This was part of the Bath Digital Festival, and a brief introduction to the world of coding, attendees were encouraged to download VSCode and create a Github account. They were then talked through how to create an online version of their CV as a starting point for their developer portfolio.
At roughly the same time, the Rocketmakers design team (Phil, Holly, and John) led a three-day Design Virtual Work Experience course for Year 10 students from Cornwall and the Scilly Isles in mid-July. Hosted by Speakers for Schools, the students were given the challenge of designing a search function for a new healthy-eating food delivery app. With help from the Rocketmakers team, they worked through the user experience (UX) to user interface (UI) design journey. Students also got to learn the importance of user research in setting the required features for a new product in Figjam, then used Figma to create basic wireframes to sketch out their ideas for the structure of the product. They also got to develop a vision for the app's brand, including a logo and colour scheme.
In the few days of July, Rocketmakers took part in a nationwide Virtual Open House organized by the Institute of Engineering and Technology. Students between the ages of 9 and 13 joined us in our virtual office on the Gather platform for an hour long session. After a brief introduction to Rocketmakers, students looked for six clues which we had hidden around the virtual office. This event helped us demonstrate how software development is all about solving problems, puzzles, and riddles to find the best way to build a product.
We rounded out our summer of outreach with a second work experience placement. Daniel Howard from Bath's Ralph Allen School joined us for a week in August to work on Beam, our in-house project for managing virtual environment content. A year 10 student, Daniel is already an accomplished game designer and was very enthusiastic about working with a team of other developers. He was a pleasure to work with, and we don't have any doubt that he has a successful career as a developer ahead of him. You can read more about Daniel's experience here.
Our outreach programmes are not just summer events, however. We've still got plenty planned for the rest of 2021. These include:
A Bath Digital Festival Open Day on the 30th of September (details TBC).
Several workshop events with Codebar.io, an organisation that works with disadvantaged groups looking to start a new career in tech.
A possible partnership with Code Your Future, which helps train refugees and disadvantaged people, providing skills in coding and software development.
A design session with Threeways School, introducing students with special educational needs to the world of UX and UI design.
A partnership with Work Force for the Future, a West of England Combined Authority supported programme which provides career education and insights to students and schools across the South West.
Additional work experience weeks with local students during the Autumn and Winter.
As you can see, we're very keen to get involved in projects which introduce careers in technology to young people across the UK - and especially to groups that are underrepresented in the tech industry. Keep checking the website for more updates, and if there's a programme you'd like Rocketmakers to help support, get in touch!
Rocketmakers is a Queens Award winning software development agency. We design, develop and deliver innovative software, apps and websites for startups, scaleups and large organisations who are working to have a positive impact in the world. From virtual work experience to blogs about our own journeys in tech we take our responsibility to inspire and equip the next generation very seriously. Contact Sara to find out more: [email protected]