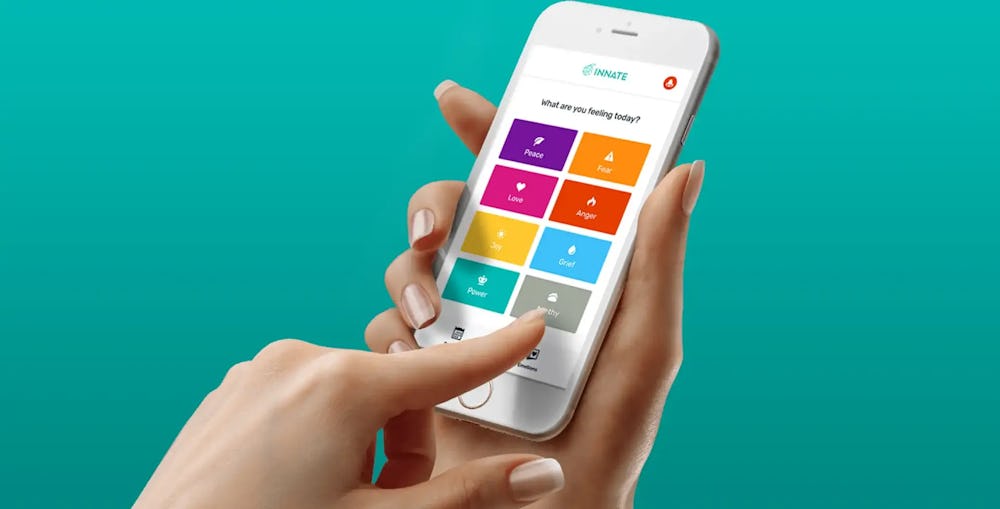 From vision to reality
Taking an entrepreneur's initial vision and turning it into a reality is something Rocketmakers excels at. A great example is the Innate Mood app.
Innate Food founder Elsa Valentine approached Rocketmakers with an idea for expanding her healthy lifestyle business with a digital tool for supporting mental health. Her concept was an app for recording moods and emotions in video journals, which would provide users with insight into their emotions in future.
After some initial meetings discussing ideas and possibilities, Rocketmakers was hired to create the first version of the new app. In February 2020, Elsa began working with project manager Hannah Sweet, designer John Grigg, and developer Ben Long, who were tasked with transforming her vision into a working application.
Rocketmakers CEO Richard Godfrey challenged his team to make a Minimum Viable Product (MVP) for Innate Mood quickly but without sacrificing quality. That challenge was met - the first version of the Innate Mood app was designed, developed, and on the App Store within a month!
"We built Innate Mood quickly, but we didn't cut any corners," Ben explained.
"The temptation when you write code at speed is to take shortcuts, but this results in code which is much harder to work on in future. I was really proud of the code we produced. Even though we worked quickly, it was clean and easy for anyone to understand."
"Also, because we designed it in the React.js language using the Apache Cordova framework, the same code works both as an Android and iOS app. This makes everything more efficient."
To avoid the complexities of security and privacy issues, the decision was made to store all video journals locally on the user's mobile device. Storing data locally also made the app simpler to build, as there was no need for a backend server. Ensuring the app could store videos across a wide range of devices did present challenges, but by the time the MVP was delivered to Elsa it was ready to share with her testers - whatever phone they used.
"It was pretty much impeccable," she said. "I was really impressed with how steady the development process had been, and the MVP was exactly what I wanted. There was one feature I asked to be removed, but otherwise it was perfect. That initial version got great feedback from our testers.
"When I first approached Rocketmakers I was very new to the tech space," Elsa said, "but I really trusted their advice from the start. They knew exactly what to do to make my vision a reality. I've found that life is much easier when you surround yourself with experts, and that is exactly what you get working with Rocketmakers."
At Rocketmakers we leverage our experience to build innovative software for companies of all sizes. If you have a vision for a project and you need a technical partner to help you design, develop and deploy it, get in touch: [email protected]