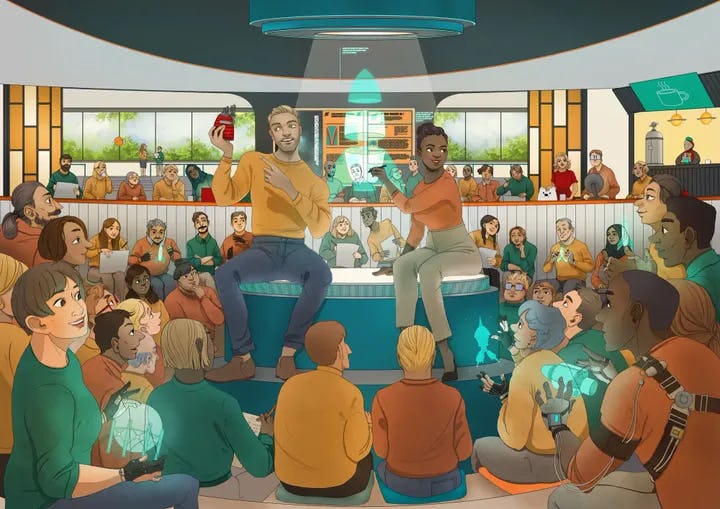 15 years of Rocketmakers: How we have grown since Apple launched the first ever iphone and NASA launched Phoenix Mars Lander
Rocketmakers was founded in 2007, the same year that Apple released the iphone and NASA launched Phoenix Mars Lander. The founders "wanted to create the company we would want to work in with people who: we like, we respect, want to learn, and deliver their best".
2007 - Keith joined iPrinciples (our original company name) with co-founders Paul and Richard.  As we started trading we also took on our first project with Bob Geldof - it was called the "Dictionary of Man."
2008 - We hired our first two crew members, Phil and Adam, who are both still with us today. We started working with The English Institute of Sport.
2010 - iPrinciples launched its first startup, KoodibooK (a platform to allow individuals to design and publish their own photo books by bringing together the worlds of print, mobile and online). We soon realised that we didn't want to be a self-publishing business after all and pivoted to start helping other startups create their products - sometimes taking equity in them to become a part of the team.
2012 - Rocketmakers was established as a trading company of iPrinciples.  We celebrated our 5th Birthday!
2014 - Publicly launched Rocketmakers on 1st January with a focus on startup and scaleup clients. Our Olympic sport medical record system, PDMS, went live.
2015 - Invested in and started working with some new startups - including Neighbourly and Travel Local who are examples of Rocketmakers clients who went on to raise £M's.
2017 - A management buyout happened with Richard and Keith taking on the business. We grew to 12 crew members.
2018 - We won a Queen's Award for Enterprise for demonstrating outstanding results in innovation. Moved to 20 Manvers Street, now 18 crew members strong.
2019 - Awarded a major Innovate UK grant in the "Audience of the Future" competition for an augmented and virtual reality project called ARiVR and later rebranded Beam. Rocketmakers were now at 26 crew members.
2020 - Received the South West Employer of the year and Business of the year awards. Added a second Innovate project to our portfolio, Future Joinery, which is software that allows 3D models of bespoke furniture to be designed and then sent directly to manufacture. A further 6 hires took us to 32 crew members.
2021 - Grew the team to 56, including a significantly bolstered management team comprising Chiefs of Finance, Commercial, Marketing, Operations and People. We won "Best Place to Work" at the SPARKies awards. Richard Godfrey won "Entrepreneur of the Year" at the Tech SouthWest awards. Launched a Support proposition with 24/7 support cover for Live deployments.
2022 so far- It's only June, but we have already upgraded our office, now located on the 3rd floor of 20 Manvers street, to accommodate our burgeoning crew members. We won two awards at the Go:Tech Awards, Most Innovative Use of Software or Cloud Technology and Best Use of AR/VR.
We can't wait to see what the next 15 years will bring!