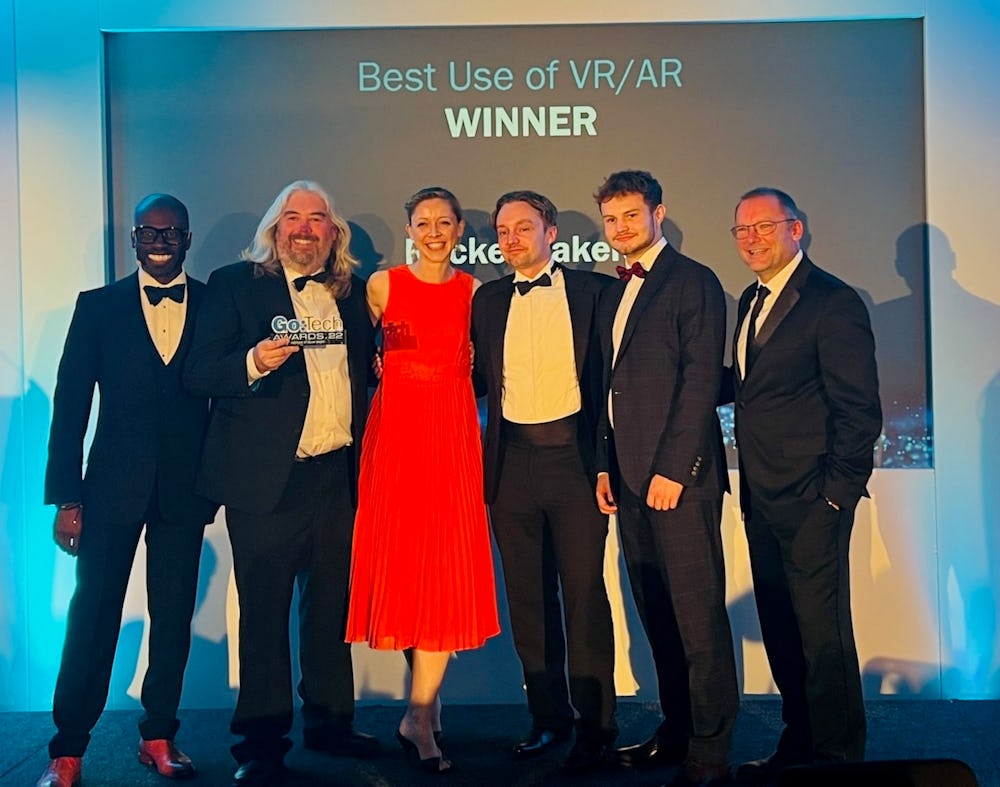 Double celebrations at National Go:Tech Awards
Rocketmakers were double winners at last night's Go:Tech Awards 2022 ceremony!
The national awards recognise technology and innovation excellence from across the UK every year. 
Rocketmakers were the only company on the night to win two awards. They were for:
Orbit, our in-house microservices suite, and Nebula, our standardised dev-ops solution , which were named "Most Innovative Use of Software Or Cloud Technology."

Beam, our in-house-designed content management system for AR and VR environments, which was named  "Best Use of VR & AR Award." 
Winning two awards at such a prestigious event was truly a great moment, but winning two awards for innovations that were conceived and developed exclusively by the Rocketmakers team was especially satisfying.
"We build amazing digital products for our clients, but we also develop products to help us be better developers and designers," explained Rocketmakers CEO Richard Godfrey. "Tonight we were recognised for work from that second category. In recent years, we've invested a lot in improving how technology is produced, and having that recognised is really gratifying. 
"We're confident that Orbit, Nebula, and Beam will change how digital products are created - not just at Rocketmakers - but around the world. And after tonight, I'm even more confident this will be the case."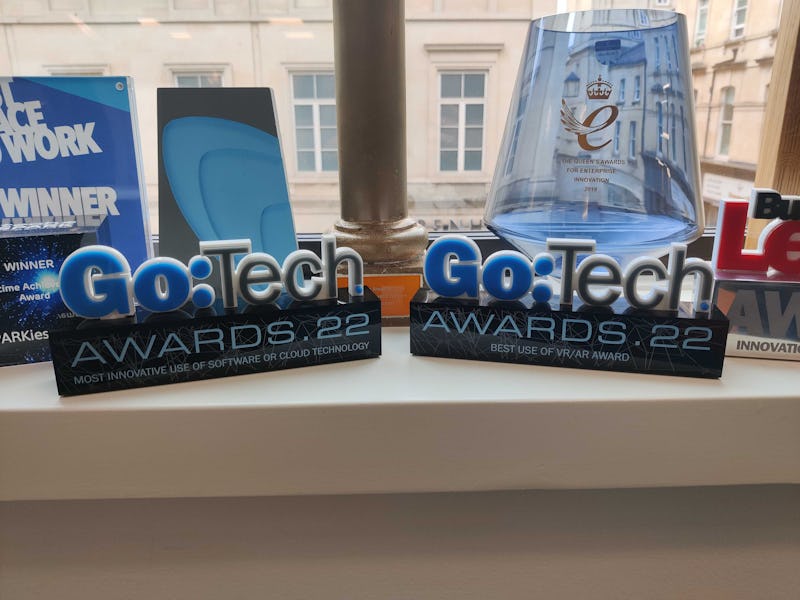 Orbit is a suite of software code modules called "Capsules." Each capsule performs a function which commonly occurs in most software projects, such as sign-up processes, payment systems, and data security. By assembling the capsules required for a new project, developers can assemble the fundamental elements of a new app in a matter of minutes, assured that each element they are using is fully tested, compatible, and secure. 
This is very different from standard software development, where developers often start with a blank page and build everything from scratch. Using Orbit, developers can produce digital products more quickly and with fewer errors than conventional methods.
Like Orbit, Nebula allows Rocketmakers developers to quickly accomplish another repetitive but vital function: DevOps. This is the process of testing new software and deploying it on servers once ready. The current industry standard is to create a unique DevOps solution for every new project.
Nebula is a groundbreaking tool because it creates a safe environment which can test and deploy their code automatically without any setup processes. This saves time and facilitates upgrades as new DevOps innovations come online. 
Beam is a Rocketmakers-designed platform which acts as a content management system for AR and VR environments in real-time.
Unlike websites, updating AR and VR content with current technology is expensive and time-consuming. Once a product is shipped, updates can only be accomplished by starting a new development cycle, which must then be distributed by cumbersome software updates. Beam allows anyone to update a virtual environment instantly, with no technical or development knowledge required.
Beam also captures user analytics to show content managers which elements in a virtual reality generate the most interest from users. These analytics help content managers place priority content in places where optimal engagement is most likely.
Initial funding for Beam came from a £1 million grant from Innovate UK.  
For more information about Orbit, Nebula, or Beam, or to find out how Rocketmakers' "award-winning technology" can help with your next digital innovation, just get in touch with our business development team. They will be happy to tell you more!