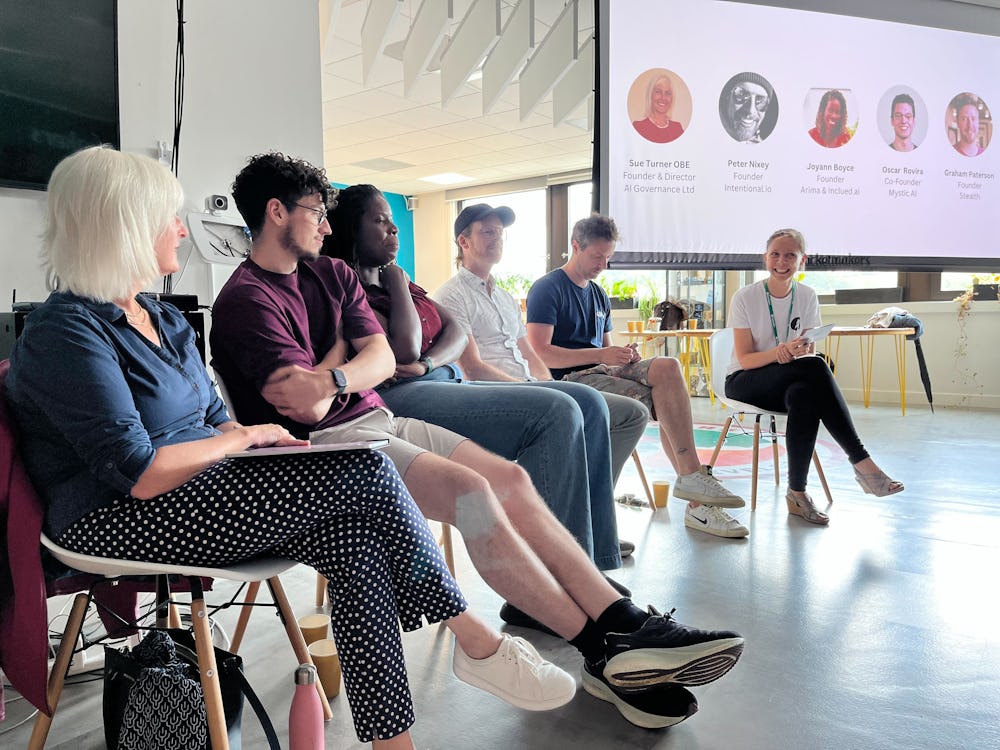 Bath Digital Festival at Rocketmakers
Did you meet Elizabeth Bennett last week? Bath Digital Festival was a great opportunity for us to share one of our current, favourite projects. We've built a hologram of Elizabeth Bennett (affectionately known as 'head in a jar' in the office) so you can ask any question to her 3D face, and she'll answer powered by AI, technical wizardry, and electricity.
As long standing supporters of techSPARK and Bath Digital Festival (BDF), it felt only right that we get involved with the long-awaited return of BDF last week. So we hosted three events, popped up at a handful more, and enjoyed an evening filled with celebration at the SPARKies. Here are the highlights:
AI Workshop with Pete Nixey
On Monday 10 July Peter Nixey (Founder intentional.io ran a workshop for anyone who is interested in the advanced use of large language models in business. Everyone left with some practical tips and insights to help them get the highest levels of performance from GPT4 - the most advanced LLM available in the consumer market. We'll talk about what you should expect it to be able to do, what you shouldn't expect it to do, and how to get it to perform much better than you may have done to date.
What can AI do for you?
On Tuesday 11 July, we hosted nearly 80 people for an exploration of all things AI. It's no surprise that Rocketmakers often pick up interesting projects that involve complex applications of AI, but this session was a chance to meet some of our friends who are leading the way through their own businesses. 
Oscar Rovira - Founder, MysticAI - provides the tools and infrastructure to make ML delivery fast, simple, scalable, and secure. 
Graham Paterson - Founder, Jitty - software to shift the property market (currently in stealth mode)
Joyann Boyce - Founder, IncluedAI - helps marketers connect with their audience by spotting and removing unconscious biases in digital content.
Peter Nixey - Founder, Intentional.io - Manage your time, Not your tasks. Make days feel more productive and less overwhelming by managing your time directly.
Sue Turner - AI Governance Limited - on a mission to inspire as many organisations as possible to use artificial intelligence with wisdom and integrity.
Immersive Innovation Showcase
A little later in the afternoon, we gathered a new crowd to discover three brilliant businesses at the nexus of creativity and immersive technology. 
Nick Fellingham - Condense - technology that enables creators to live steam 3D video into virtual spaces
Richard Godfrey - Beam by Rocketmakers - provides XR environment managers with cutting-edge content management tools and a full suite of analytics
Kate Dimbleby / Ru Howe - Stornaway.io - an interactive video story maker designed for non-coders. Our browser-based editor lets you map out your story visually and play it instantly.
The SPARKies
To top off the week, ten of our crew members popped along to the Parade Gardens for the tech celebration of the year - the SPARKies. We were very pleased to take home the Best Digital Design Award for our work for Leukaemia Care in designing the brand and app for their Unicornfest trail (which is currently happening in Bristol).
What a week filled with great conversations, mind-blowing technology, and new connections!
Resources mentioned during our events:
For those that attended and those that didn't, I promised to share a little list of the resources mentioned during the various events that we ran last week:
GPT4 - https://openai.com/gpt-4
Coded Bias on Netflix - https://www.netflix.com/title/81328723
AI and the future of work - Ben Evans - https://www.ben-evans.com/benedictevans/2023/7/2/working-with-ai
Black Mirror - https://www.netflix.com/title/70264888
Hubspot AI chatbot - https://www.hubspot.com/artificial-intelligence
Synthesia for video - https://www.synthesia.io/
Simplified AI for copywriting - https://simplified.com/ai-writer/
Notion AI tool - https://www.notion.so/product/ai
Otter for meeting notes - https://otter.ai/
AI DJ on spotify - https://newsroom.spotify.com/2023-02-22/spotify-debuts-a-new-ai-dj-right-in-your-pocket/
Microsoft AI tools in office - https://blogs.microsoft.com/blog/2023/03/16/introducing-microsoft-365-copilot-your-copilot-for-work/
AI Buzzfeed Barbies - https://www.buzzfeed.com/aglover/what-barbie-would-look-like-uk-counties