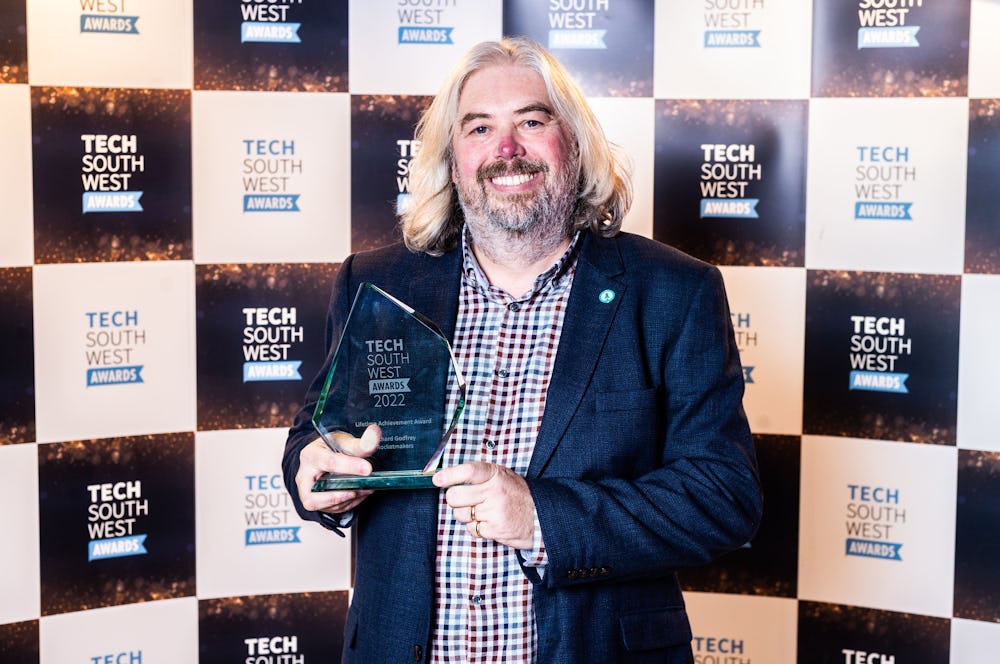 Richard Has Done The Double!
Rocketmakers CEO Richard Godfrey was honoured with a Lifetime Achievement Award by Tech South West on Thursday night.
Richard's leadership during his 15 years at Rocketmakers is something many people are aware of, but his list of impressive accomplishments stretches back much further. While working for Deloitte in the mid 1990s he created the world's first DNA database for criminal investigations while working on a contract for the Forensic Science Service. He later led the UK Architect team at Microsoft that demonstrated new innovations, including a 3D digitization of Leonardo DaVinci's famous notebooks. 
The 2022 Tech South West Awards took place at Aerospace Bristol, and began with a dinner served underneath the wings of a Concorde supersonic plane. Despite his long list of achievements, Richard says he was still surprised to hear representatives from award sponsors Bishop Fleming call his name.
"The room was full of so many great people," he said. "I knew I had been nominated, but considering the field it really hadn't occurred to me I would actually win."
"As I walked up to the stage I saw so many colleagues and people I knew from different companies and projects that I really felt incredibly fortunate to be receiving such an award."
Getting a Lifetime Achievement award might sound like a once-in-a-lifetime occasion, but in Richard's case it was his second. He won the same award at the 2019 SPARKies, organised by TechSPARK. For Richard, the Tech South West Award was fantastic recognition, especially after growing Rocketmakers through the pandemic.
"Tech South West has done a brilliant job of bringing together a tech community from across a really wide area," he explained. "From Cornwall to Wiltshire, every part of the region is represented, and that makes winning a Lifetime Achievement Award across that huge geography especially gratifying."
Every part of the South West was represented on the night at the awards, but Bath's tech community was out in force as nominees and winners. Our friends at Storm, SECCL, Digital Wonder Lab, Earswitch, and iO Academy were all present.
"Bath is a really wonderful part of the regional tech scene," Richard explained. "Rocketmakers is lucky to be based in such a great city, and part of such a vibrant, supportive and welcoming tech community."