Five Things We've Learnt In 15 years
We celebrated our 15th birthday this week - no, we can't believe it either! We've learnt a lot since the early days of 2007, from the importance of purpose to the value of, well, values. Here are our top five learnings.
1 - Positivity pays
Since our foundation in 2007, we've been supporting meaningful projects that align with our mission. In 2019, we made a company commitment to develop software in the next ten years that has a direct, positive, and meaningful impact on the lives of more than 50 million people.
When selecting new projects, we've learnt the importance of ensuring that everyone in our crew is proud of their work at all times. This decision has been fundamental to our success over the past 15 years as we've been fortunate to help organisations such as Hearts & Minds and UK Sport, as well as charities such as Leukaemia Care, achieve their ambition. 
2 - Organisational shape matters as much as size
The Entrepreneurial Operating System, or EOS, is a tried and tested approach used by thousands of organisations to push past plateaus in the growth of their businesses. 
The idea to implement EOS at Rocketmakers came after our CEO Richard read the book Traction, by Gino Wickman, which described clearly defined tools and a comprehensive framework of concepts which we felt could work in our business.
We learnt that implementing EOS would help us get better at three things:
Vision - Getting everyone in our organisation 100% on the same page with where we're going, and how we plan to get there.
Traction - Instilling focus, discipline, and accountability throughout the company so that everyone executes on that vision every day.
Health - Helping us all become a more cohesive, functional, healthy team.
We've learnt to adapt EOS to work with our uniquely open culture and flat structure. For example, we use Notion a workspace platform to invite the whole crew to share issues and suggestions for discussion and future implementation. Notion also provides an accessible space where we can develop, share and update our quarterly goals (which in EOS are called "rocks"). 
In addition to this, we have weekly company-wide meetings where we invite team leads to share updates, and crew members have the opportunity to share their knowledge through 10 minute "bridge talks."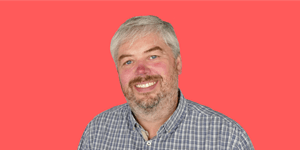 'I've always believed that the best relationships are built on developing trust through demonstrating our capability and integrity as well as having a "give first" approach. That's why we're always ready and willing to help with technology advice and guidance where we can and have a cast-iron guarantee that we'll always make anything right.'
3 - Supporting the community is key
One of our values has always been to build and share knowledge. As a team, we've learnt to take pride in solving problems and innovating together. We draw on diverse experiences and we share our learning with generosity. 
As part of the EOS approach to running Rocketmakers, a member of our team (Sara) is in an 'Outreach' seat. In this role, Sara ensures that we're giving back to the community and making the most of the opportunities to interact with the next generation of tech crew members. In the last few years, we have: 
Supported 249 young people through events, advice and guidance
Hosted 45 young people for work experience
Supported 16 outreach events 
Facilitated 1 apprenticeship and 1 student internship
4 - Culture is central to success
Over the last 15 years, we've learnt that our working culture is at the heart of everything we do. If our crew are happy and engaged with what they do, everyone benefits. 
Our flat organisational structure and open approach is designed to empower every crew member to work in harmony with our values and to take ownership for their own experience at work - whether that's introducing a new social club or challenging the status quo. What's more, we try and live to our values, which we continue to refine along the way:
🌈 We celebrate our differences 
We bring our best and whole self to work. We actively participate in our community and contribute to our collective goals. 
🧠 We build and share knowledge 
We solve problems and innovate together; we draw on diverse experiences and we share our learning with generosity. 
🫂 We support each other 
We pull together to be greater than the sum of our parts. We prioritise our wellbeing, impact and professional growth with kindness and respect. 
💬 We speak up and are heard 
We are trusted to make the right decisions for ourselves, Rocketmakers and our clients. 
🎉 We demonstrate integrity 
We do what we say we will, and we seek to celebrate and improve when the time is right.
5 - Our clients' success is our success
To effectively collaborate with our clients, we've learnt the importance of understanding their experience and the ways in which we can improve how we work together. 
Whilst on paper we are an agency that offers a service to our clients, in reality we think of ourselves as an extension of our client's team, working together to create software that delights clients and their users, and that will work and scale seamlessly.  
We consider data a superpower, and collect customer satisfaction intel and other insights. Our latest NPS (Net Promoter Score) is 68, which is within the top quartile for tech companies. We're committed to learning more and more about our client's experience and responding to feedback (through retrospectives and other interactions) to make a greater impact.
These are just five of the lessons we've learnt over the last 15 years - there are certainly a lot more and we're looking forward to learning more in the years to come!