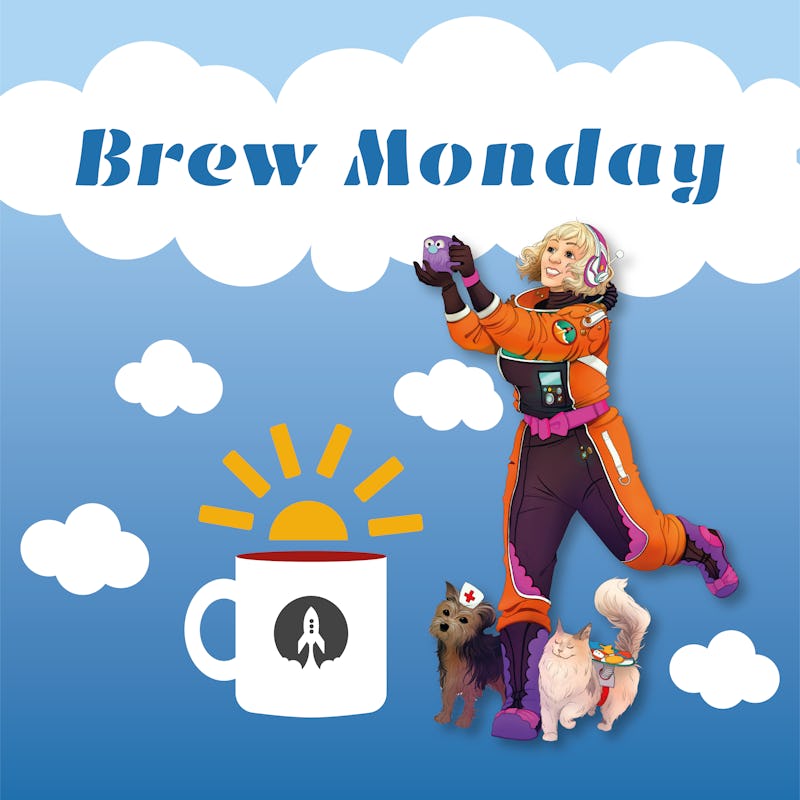 Blue Monday is Brew Monday at Rocketmakers
With today being Blue Monday, we sat down with Sian, our Chief People Officer, to talk about what the initiative means. 
What is Blue Monday?
Blue Monday is thought to be a difficult day for a lot of people. Christmas has come and gone, it's the middle of winter and the weather's pretty grim. Statistically it's a day that people really struggle with, so it's an important time to highlight help and support that's available. 
What do you have planned at Rocketmakers for Blue Monday this year?
Well, this year we're having Brew Monday, which is a concept that originally came from the Samaritans. The idea is for our crew to have a cuppa and a catch up, check in with one another and show that we care. Some people will be in the office and others online, but wherever they're based we're encouraging them to book time in with each other, especially those in different teams/departments. 
This is an initiative to coincide with Blue Monday, but we are encouraging everyone to go beyond that and create a culture in which we check in with people regularly to see how they're doing.   

What does wellbeing look like at Rocketmakers?
We place a great deal of importance on wellbeing here at Rocketmakers. 
We have our Wellbeing Slack channel where our crew can post resources and support they've found useful, including websites, podcasts, books and activities.
We also have our 'ears' - crew members can request an anonymous catch up with one of our volunteers to chat confidentially if they are struggling with anything.
Our wellbeing strategy is not just about mental health, but also financial, physical and social health. For example, we've recently set up Octopus MoneyCoach, which gives people individual coaching around their money management and has been received really well, especially considering the current climate.
We also have a lot of regular fitness and social events organised by crew members, including running, football, walking, games nights and many more, which are great opportunities to bring people together. 
Last year, a few crew members shared their own stories around mental health, in our wellbeing channel to encourage everyone that Rocketmakers is a safe space in which they can be open about their struggles and know that there's support available, from the leadership team and all their colleagues.
Our leadership team and especially our CEO Richard are really supportive of these ideas and keen on building a sense of community and support, which is reflective of one of our values that:
We support each other. We pull together to be greater than the sum of our parts. We prioritise our wellbeing, impact and professional growth with kindness and respect.
Moving forward, we are looking at introducing reproductive health into our wellbeing strategy, which will highlight the support we will provide with menopause, fertility, and other similar challenges.
Follow us on LinkedIn, Instagram and Twitter for more about our culture and life at Rocketmakers.