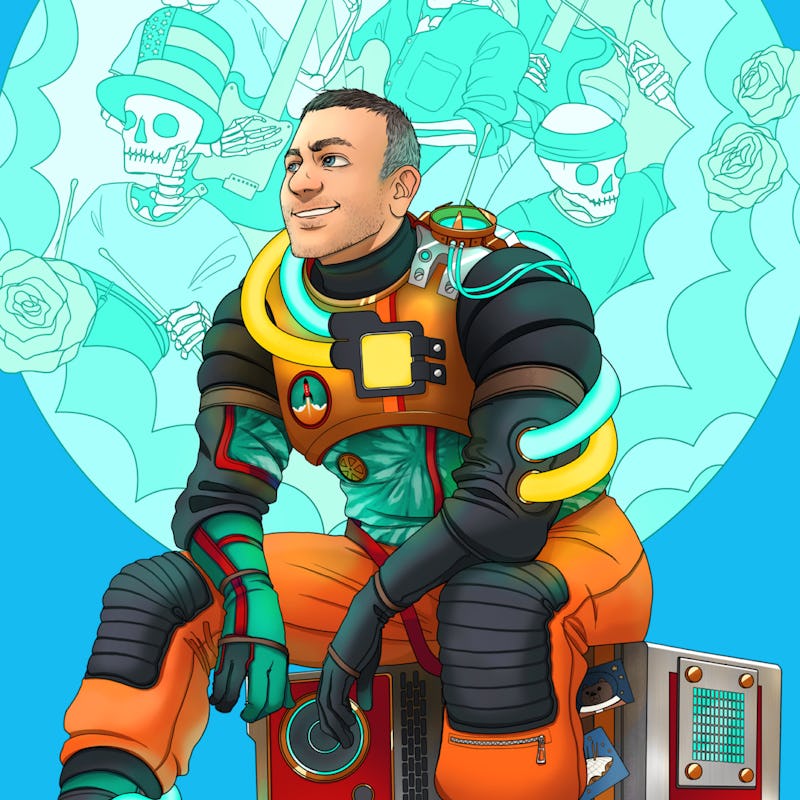 A day in the life of Rocketmakers Commercial Lead Evan Rudowski
Evan Rudowski wears two hats at Rocketmakers: he is the Commercial Lead, and he is the "implementer" of the Entrepreneurial Operating System, or EOS. We caught up with him recently and asked him to tell us what he does on a typical day.
Rocketmakers (RM): So, Evan, before we talk about your day, can you tell us exactly what a business development manager does?
Evan Rudowski (ER): Sure. Mostly I have conversations. I listen to what projects people are looking for support with, and I tell them about Rocketmakers, how we work, and what we do best.
RM: What sort of people are you talking to?
ER: It runs the gamut, from company founders at an early stage looking for someone they can trust to build quality software, to leaders of scale-ups which are showing momentum but need new software which can scale with them as they grow.
I also talk to people from large organizations where something interesting is happening, but they need a partner because they lack the right skills or capacity in-house, or want to do something more under the radar. Anytime I talk to someone like this it generally always leads to very interesting conversations.
RM: So in essence do you spend your day selling Rocketmakers' abilities to potential new clients?
ER: That's part of it, but only part. As a company we are also looking for projects and clients which are a good fit for us. We like to find clients which are a good philosophical match, and can help us with our goal of developing technology which has a positive impact on the world.
And also we are looking for partners who understand us and are comfortable with the way we develop software. We work using Agile development methods, which means it's not generally possible to know at the outset precisely how long a development will take or how much it will cost. It's an iterative and collaborative process, and people have to believe, as we do, that this will give them the best result.
We are always conscious of time and budget restraints, but we do our best work when there is a collaborative, design-led process with multiple iterations. This is an increasingly standard way to develop software, but not everyone is comfortable with it.
RM: So how exactly do you find these people who are a good match for Rocketmakers?
ER: I start by responding to inbound enquiries. What we call "first contact" can happen in several different ways. Someone may fill out a website enquiry form, or a mutual contact sends an introductory email. I'm careful to make sure these get a quick response, and we set up a chance for an initial conversation.
If things look promising, I usually set up a followup call, usually bringing in someone else from the team with more development knowledge, like one of our project managers or UX designers.
If we think there's a good fit, I usually pull together a proposal which confirms our understanding of their vision, provides a detailed explanation of what we propose building and why, and then lists the amount and types of effort we think will be required.
RM: That's really interesting - thanks! So what about this other role, EOS Implementer?
ER: Yes, that's how I spend the rest of my time. I've implemented EOS previously at other organisations and I'm a big believer in it.
RM: Sorry for the dumb question here, but can you explain what is "EOS" actually is?
ER: It's a framework for identifying issues, both problems and opportunities, and prioritizing which are to be solved, which you can live with, which offer no value and need to be removed.
It's something that most companies need once they reach a certain size, when it has grown too large for the founder to run everything. That can be a tricky transition, and not every company manages it well. Rocketmakers has definitely reached that stage, and EOS is providing us the capacity to keep growing.
RM: Okay, that makes sense, but what is an "implementer," then?
ER: My job is to get EOS up and running and to make sure everyone is comfortable with it.
We've been using EOS for nearly a year now, so the introduction part is mostly finished, but Rocketmakers is a very non-hierarchical company where people feel empowered to voice opinions. It's still important to make sure everyone is comfortable with EOS.
The meetings which drive EOS also have certain formats, and have a certain cadence. So I focus a lot on making sure everything is working as it should.
RM: With all of these different people you are talking to every day, from business development contacts to EOS implementation, do you struggle to do anything else?
ER: There's always more to be done. But as a company Rocketmakers encourages all of us to have a good work/life balance. There is enough flexibility in my day to get a few walks in (so I can get my ten thousand steps done) and have a good lunch break. And, at the end of the day I turn my laptop off and focus on family and home. That's really important.
RM: Thanks for talking to us Evan - it was really interesting!
ER: Not a problem. Thank you.
At Rocketmakers we leverage our experience to build innovative software for companies of all sizes. If you have a vision for a project and you need a technical partner to help you design, develop and deploy it, get in touch: [email protected]